Buy Individual ReportFull Report Downloads for Subscribers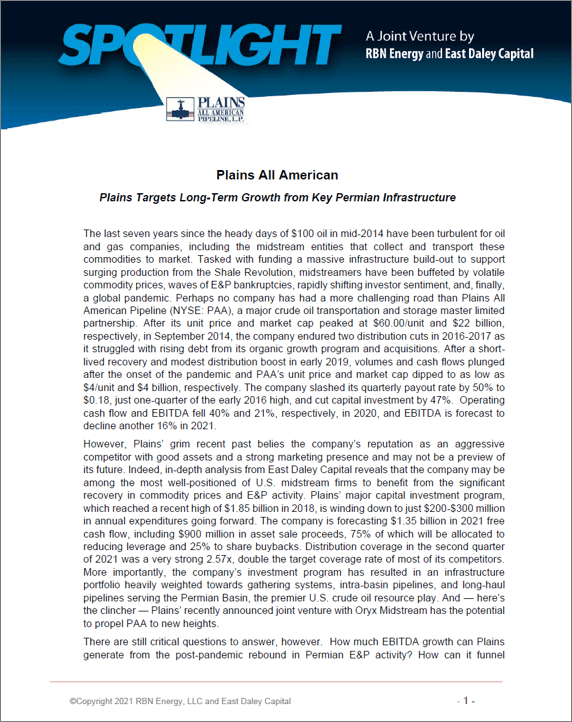 The last seven years since the heady days of $100 oil in mid-2014 have been turbulent for oil and gas companies, including the midstream entities that collect and transport these commodities to market. Tasked with funding a massive infrastructure build-out to support surging production from the Shale Revolution, midstreamers have been buffeted by volatile commodity prices, waves of E&P bankruptcies, rapidly shifting investor sentiment, and, finally, a global pandemic. Perhaps no company has had a more challenging road than Plains All American Pipeline (NYSE: PAA), a major crude oil transportation and storage master limited partnership. After its unit price and market cap peaked at $60.00/unit and $22 billion, respectively, in September 2014, the company endured two distribution cuts in 2016-2017 as it struggled with rising debt from its organic growth program and acquisitions. After a short-lived recovery and modest distribution boost in early 2019, volumes and cash flows plunged after the onset of the pandemic and PAA's unit price and market cap dipped to as low as $4/unit and $4 billion, respectively. The company slashed its quarterly payout rate by 50% to $0.18, just one-quarter of the early 2016 high, and cut capital investment by 47%.  Operating cash flow and EBITDA fell 40% and 21%, respectively, in 2020, and EBITDA is forecast to decline another 16% in 2021. 
However, Plains' grim recent past belies the company's reputation as an aggressive competitor with good assets and a strong marketing presence and may not be a preview of its future. Indeed, in-depth analysis from East Daley Capital reveals that the company may be among the most well-positioned of U.S. midstream firms to benefit from the significant recovery in commodity prices and E&P activity. There are still critical questions to answer, however.  How much EBITDA growth can Plains generate from the post-pandemic rebound in Permian E&P activity? How can it funnel additional volumes into its system without major debt-boosting acquisitions and capital outlays? Will the performance of its non-Permian assets support or erode EBITDA and cash flow growth?
Conclusions by East Daley Capital include:
Plains All American Pipeline EBITDA will increase 24% from $2.165 billion in 2021 to $2.676 billion in 2024, with 76% of the gain coming from the Transportation segment. That segment's EBITDA will increase by 32% to $2.047 billion in 2024.
EBITDA from the Permian gathering, intra-basin, and long-haul pipeline segments will grow by 42% by 2024 on higher volumes from higher production growth.
Permian growth will be supported by modest recovery on the company's other U.S. and Canadian transportation assets from 2020 lows.
Facilities segment EBITDA will decline 6% to $563 million in 2024, 21% of the company total, after the $850 million sale of Plains' natural gas storage assets in 2021.
Income from the company's marketing arm, the Supply & Logistics segment, will bottom at $12 million in 2021 and recover modestly to $75 million in 2024.
The company's leverage ratio is expected to decline from 4.1x at year-end 2021 to just above its 3.0x target by year-end 2024.
The recently announced JV with private company Oryx Midstream will create a Permian gathering juggernaut that is likely to boost volumes on Plains' intra-basin and long-haul pipelines and generate additional EBITDA growth beginning in 2022.
Spotlight: Plains All American is included in RBN's Drill Down report series, a suite of reports covering many of the key issues expected to impact the markets for crude oil, natural gas and natural gas liquids. Spotlight reports are part of RBN Backstage Pass™ premium resources that also include Blog Archive Access, Spotcheck Indicators, Market Fundamentals Webcasts, Get-Togethers and more. Spotlight is a joint venture of RBN Energy and East Daley Capital. By subscribing to RBN's Backstage Pass™ Premium Services, you plug into our network and get direct access to our premium resources.
Click here to download a preview of Spotlight: Plains All American