A recent proposal from Questar could bring part of a pipeline that once shipped crude to Long Beach from Four Corners in the 1950's back into service. Questar plans to convert the western segment of its Southern Trails pipeline to crude and rename it the Inland California Express. The pipeline origin would be a rail load terminal in Central California from where crude would flow to Long Beach refineries with over 1 MMb/d capacity. The Questar proposal will likely attract support from shippers in the Rockies as well as Western Canada but still be a stretch for crude loaded onto railcars in the Permian. Today we review the proposal.
A Little History
Recall that last year we evaluated the failed Kinder Morgan Freedom Pipeline proposal that would have run from West Texas to California (see Is the Price of Freedom Too High?). That project reinforced a commonly held belief that it is a financial and engineering stretch to build crude pipelines over the Rockies and Sierra Nevada mountain ranges that separate the eastern US from the West Coast. But that has not always been the case. Over 50 years ago in 1957, Shell Oil led a consortium that developed the 700 mile Four Corners pipeline running from close to the borders of New Mexico, Arizona, Utah and Colorado, transporting midcontinent crude to refineries in Long Beach, CA. The Four Corners pipeline was purchased by ARCO (Atlantic Richfield – now part of BP) in the 1970's, renamed as the ARCO 190 pipeline and its direction was reversed to ship the company's Alaska North Slope (ANS) crude, (delivered to Long Beach in tankers from Valdez, AK), east across the US to the Texas Gulf Coast. But in 1982 the Transpanama Pipeline was opened across the Panamanian Isthmus to ship ANS to the Gulf Coast  (see The Crude From Transpanama) and by the late 1990's, ANS crude production volumes were in decline. In 1998 ARCO sold the pipeline to interstate natural gas shipper Questar Pipeline Company who wanted to repurpose the line to ship natural gas westbound.
">

"SURVIVING THE FLOOD OF LIGHT CRUDE OIL"

  A JOINT CONFERENCE PRESENTED BY

RBN ENERGY AND TURNER, MASON & COMPANY

Why are refineries limited in the portion of light crude that can be run?  What are the current limits on light crude runs?  If U.S. refineries cannot absorb all of this volume and it cannot be exported, where will all this light crude go?    These questions and many more will be addressed at this conference, to be held August 19-20 in Houston.  More information on Surviving the Flood here.
In July 2002 Questar re-opened a 490-mile section of the pipeline – now called the Southern Trails - from the Blanco Hub north of Farmington - a central gathering point for gas produced in Wyoming, Utah and Colorado – across Arizona to Needles, CA. Since then the pipeline has transported up to 80 MMcf/d of natural gas from the San Juan basin to markets in New Mexico, Arizona and California. This is the eastern segment of the Southern Trails pipeline shown in dark blue in Figure #1 below. The eastern segment was supposed to be the first phase of Questar's plan to eventually open an additional 210 miles of pipeline to transport 120 MMcf/d of gas from Needles, CA to Long Beach.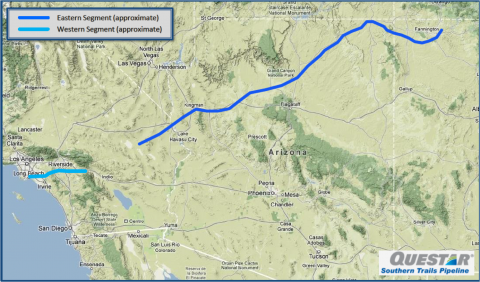 Figure #1
Source: Questar Pipeline Company (Click to Enlarge)
Return to Crude Service
But Questar never developed the western third of Southern Trails because it lacked customer support. In 2013, Questar Southern Trails entered into an agreement with an affiliate of Spectra Energy to evaluate re-commissioning a 96-mile stretch of the western segment for crude-oil delivery (light blue line in Figure #1). The western segment, to be renamed the Inland California Express, extends from Whitewater, CA, just east of Palm Springs to refineries in Long Beach. In their Q1 2014 earnings call, Questar reported that they continue to work with Spectra to market capacity on the project. The plan is to revert the western segment to crude oil service (it is a 16 inch diameter pipeline that would typically be able to carry about 140 Mb/d) and construct a 120 Mb/d rail unload facility linked to the Union Pacific railroad at the Whitewater end (see Figure #2). The project is still in the marketing and engineering phase and a decision whether or not to proceed is expected in 2014. If market conditions and economics enable the project to move forward, it could be in service by late 2015 or early 2016.
Join Backstage Pass to Read Full Article