Technology seen as major tool in meeting ESG targets, limiting climate impacts
Buy Individual ReportFull Report Download for Subscribers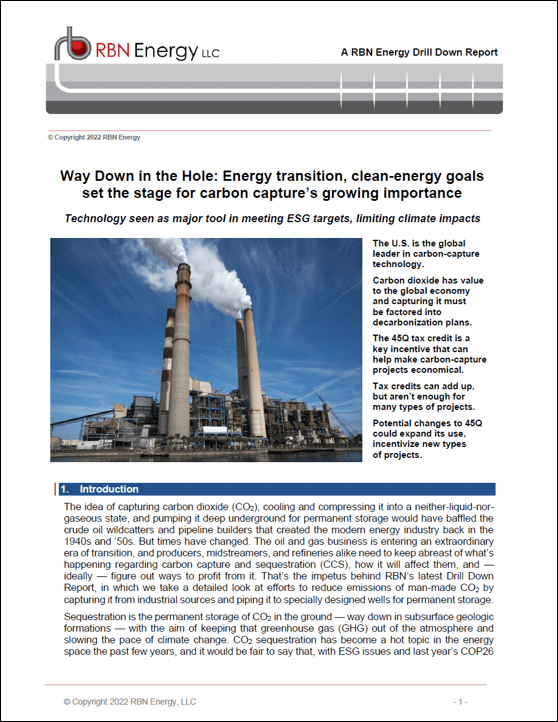 The idea of capturing carbon dioxide (CO2), cooling and compressing it into a neither-liquid-nor-gaseous state and pumping it deep underground for permanent storage would have baffled the crude oil wildcatters and pipeline builders that created the modern energy industry back in the 1940s and '50s. But times have changed. The oil and gas business is entering an extraordinary era of transition, and producers, midstreamers, and refineries alike need to keep abreast of what's happening regarding carbon capture and sequestration (CCS), how it will affect them, and — ideally — figure out ways to profit from it. That's the impetus behind RBN's latest Drill Down Report, in which we take a detailed look at efforts to reduce emissions of man-made CO2 by capturing it from industrial sources and piping it to specially designed wells for permanent storage.
Key takeaways from the report include:
The U.S. is the global leader in carbon-capture technology.
Carbon dioxide has value to the global economy and capturing it must be factored into decarbonization plans. 
The 45Q tax credit is a key incentive that can help make carbon-capture projects economical.
Tax credits can add up but aren't enough for many types of projects.
Potential changes to 45Q could expand its use, incentivize new types of projects.
"Way Down in the Hole" is included in RBN Energy's 2022 Drill Down report series, a suite of reports covering many of the key issues expected to impact the markets for crude oil, natural gas and natural gas liquids. Drill Down reports are part of RBN Backstage Pass™ premium resources that also include Blog Archive Access, Spotcheck Indicators, Market Fundamentals Webcasts, Get-Togethers and more. By subscribing to RBN's Backstage Pass™ Premium Services, you plug into our network and get direct access to our premium resources.
Download a preview of Way Down in the Hole