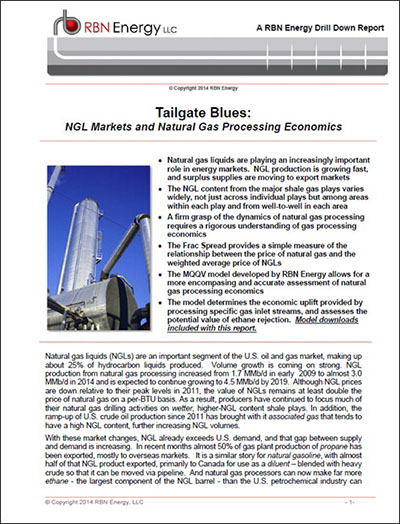 NGL production from natural gas processing increased from 1.7 MMb/d in early 2009 to almost 3.0 MMb/d in 2014 and is expected to continue growing to 4.5 MMb/d by 2019. Although NGL prices are down relative to their peak levels in 2011, the value of NGLs remains at least double the price of natural gas on a per-BTU basis. As a result, producers have continued to focus much of their natural gas drilling activities on wetter, higher-NGL content shale plays.
With these market changes, NGL production already exceeds U.S. demand, and that gap between supply and demand is increasing. Surpluses of propane are being exported to overseas markets. Natural gasoline is moving to Canada for diluent. And about 20% of the ethane that could be produced is being rejected – sold into the natural gas market.
Despite the important role of NGLs, these markets are not well understood, both due to their complexity and the unique aspects of their production, transportation, storage and use. This RBN Energy Drill-down Report illuminates one of the most misunderstood aspects of NGL markets – the extraction of NGLs from natural gas.
Key take-aways from the report include:
Natural gas liquids are playing an increasingly important role in energy markets.  NGL production is growing fast, and surplus supplies are moving to export markets
The NGL content from the major shale gas plays varies widely, not just across individual plays but among areas within each play and from well-to-well in each area
A firm grasp of the dynamics of natural gas processing requires a rigorous understanding of gas processing economics
The Frac Spread provides a simple measure of the relationship between the price of natural gas and the weighted average price of NGLs
The MQQV model developed by RBN Energy allows for a more encompassing and accurate assessment of natural gas processing economics
The model determines the economic uplift provided by processing specific gas inlet streams, and assesses the potential value of ethane rejection.  Model downloads included with this report.
Tailgate Blues is the eighth in RBN Energy's Drill Down report series, a suite of twelve reports coming from RBN during 2014 covering many of the key issues expected to impact the markets for crude oil, natural gas and natural gas liquids.
Drill Down reports are part of RBN Backstage Pass™ premium resources that also include Blog Archive Access, Spotcheck Indicators, Market Fundamentals Webcasts, Get-Togethers and more. By subscribing to RBN's Backstage Pass™ Premium Services, you plug into our network and get direct access to our premium resources.
Click to download a preview of Tailgate Blues: NGL Markets and Natural Gas Processing Economics.