Buy Individual ReportFull Report Downloads for Subscribers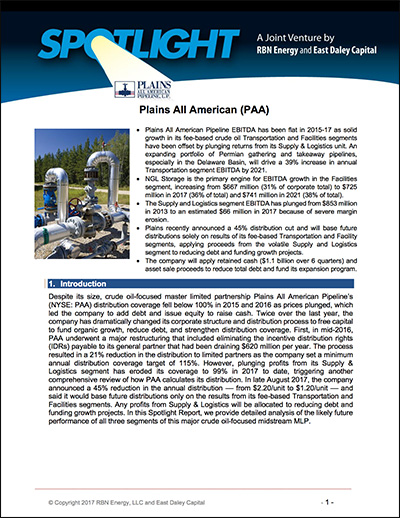 Despite its size, crude oil-focused master limited partnership Plains All American Pipeline's  distribution coverage fell below 100% in 2015 and 2016 as prices plunged, which led the company to add debt and issue equity to raise cash. Twice over the last year, the company has dramatically changed its corporate structure and distribution process to free capital to fund organic growth, reduce debt, and strengthen distribution coverage.. In this Spotlight Report, we provide detailed analysis of the likely future performance of this major crude oil-focused midstream MLP.
Key take-aways from the report include:
Plains EBITDA has been flat in 2015-17 as solid growth in its fee-based crude oil Transportation and Facilities segments have been offset by plunging returns from its Supply & Logistics unit. An expanding portfolio of Permian gathering and takeaway pipelines, especially in the Delaware Basin, will drive a 39% increase in annual Transportation segment EBITDA by 2021.
NGL Storage is the primary engine for EBITDA growth in the Facilities segment, increasing from $667 million (31% of corporate total) to $725 million in 2017 (36% of total) and $741 million in 2021 (38% of total).
The Supply and Logistics segment EBITDA has plunged from $853 million in 2013 to an estimated $66 million in 2017 because of severe margin erosion.
Plains recently announced a 45% distribution cut and will base future distributions solely on results of its fee-based Transportation and Facility segments, applying proceeds from the volatile Supply and Logistics segment to reducing debt and funding growth projects.
The company will apply retained cash ($1.1 billion over 6 quarters) and asset sale proceeds to reduce total debt and fund its expansion program.
Spotlight: Plains All American is included in RBN's 2017 Drill Down report series, a suite of reports covering many of the key issues expected to impact the markets for crude oil, natural gas and natural gas liquids. Spotlight reports are part of RBN Backstage Pass™ premium resources that also include Blog Archive Access, Spotcheck Indicators, Market Fundamentals Webcasts, Get-Togethers and more. Spotlight is a joint venture of RBN Energy and East Daley Capital Advisors.  By subscribing to RBN's Backstage Pass™ Premium Services, you plug into our network and get direct access to our premium resources. 
Download a preview of Spotlight: Plains All American (PAA)