Buy Individual ReportFull Report Downloads for Subscribers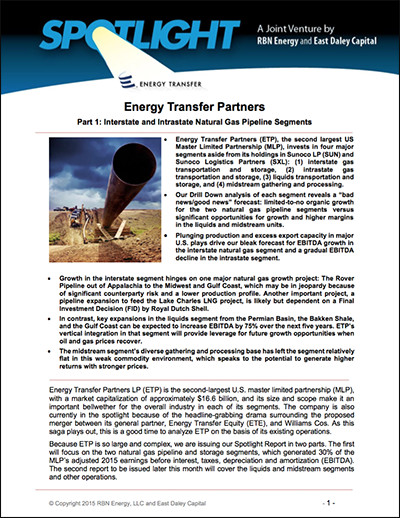 Energy Transfer Partners (ETP) is the nation's second-largest master limited partnership (MLP), with a market capitalization of $16.6 billion, $39.7 billion in 2015 revenue and $8 billion in 2015 capital investments, and a general partner—Energy Transfer Equity (ETE)—whose once-promising merger deal with Williams Cos. has turned ugly and may well be doomed. ETP's extensive holdings include several major interstate and intrastate natural gas pipelines, midstream natural gas services, and natural gas liquids (NGL) pipelines and services; it also holds approximately 27.5% of the limited partner interests and all of the general partner interest in Sunoco Logistics Partners (SXL).
Our Drill Down analysis of each segment reveals a "bad news/good news" forecast: limited-to-no organic growth for the two natural gas pipeline segments versus significant opportunities for growth and higher margins in the liquids and midstream units.
Plunging production and excess export capacity in major U.S. plays drive our bleak forecast for EBITDA growth in the interstate natural gas segment and a gradual EBITDA decline in the intrastate segment.
Growth in the interstate segment hinges on one major natural gas growth project: The Rover Pipeline, a project whose future is clouded by reduced region production forecasts and significant counterparty risk.  
Key expansions in the liquids segment from the Permian Basin, the Bakken Shale, and the Gulf Coast can be expected to increase EBITDA by 75% over the next five years.
The midstream segment's diverse gathering and processing base has left the segment relatively flat in this weak commodity environment, which speaks to the potential to generate higher returns with stronger prices.
Spotlight, part of RBN Backstage Pass, is a joint venture of RBN Energy and East Daley Capital Advisors. With the support of Oil & Gas Financial Analytics, Spotlight provides a "deep dive" into the fundamentals that shape the outlook for midstream energy companies. In each report, we "spotlight" a midstream energy firm, typically one operating within an MLP structure, and provide a comprehensive view of the company's assets and operations.

In this new Spotlight report, we feature a deep-dive into ETP's natural gas pipeline and storage segments, which generated 30% of the MLP's adjusted 2015 earnings before interest, taxes, depreciation and amortization (EBITDA).  We'll follow up later this month with a second report on ETP covering the company's liquids and midstream segments and other operations.

Spotlight: Energy Transfer Partners - Part 1: Interstate and Intrastate Natural Gas Pipeline Segments is included as the 5th in RBN's Drill Down report series, a suite of monthly reports covering many of the key issues expected to impact the markets for crude oil, natural gas and natural gas liquids. Spotlight reports are part of RBN Backstage Pass™ premium resources that also include Blog Archive Access, Spotcheck Indicators, Market Fundamentals Webcasts, Get-Togethers and more. By subscribing to RBN's Backstage Pass™ Premium Services, you plug into our network and get direct access to our premium resources.
Click to download a preview of Spotlight: Energy Transfer Partners - Part 1