Producers and Water Midstreamers Scramble to Address Water Supply and Produced Water Takeaway Needs
Buy Individual ReportFull Report Downloads for Subscribers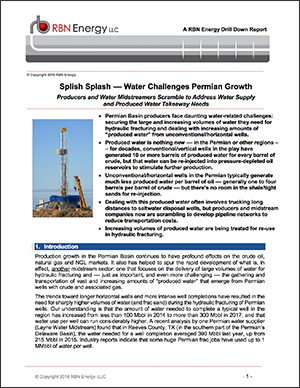 Production growth in the Permian Basin continues to have profound effects on the crude oil, natural gas and NGL markets. It also has helped to spur the rapid development of what is, in effect, another midstream sector: one that focuses on the delivery of large volumes of water for hydraulic fracturing and - just as important, and even more challenging - the gathering and transportation of vast and increasing amounts of "produced water" that emerges from Permian wells with crude and associated gas.
In this Drill Down Report, we review our analysis of past and present produced water volumes being generated in the Permian by conventional and unconventional wells, and discuss a number of representative water and produced water pipeline systems in the Permian - some existing and some planned. We also consider the play's need for more water-related infrastructure as production there continues to grow.
Key take-aways from the report include:
Permian Basin producers face daunting water-related challenges: securing the large and increasing volumes of water they need for hydraulic fracturing and dealing with increasing amounts of produced water from unconventional/horizontal wells.
Produced water is nothing new –– in the Permian or other regions –– for decades, conventional/vertical wells in the play have generated 10 or more barrels of produced water for every barrel of crude, but that water can be re-injected into pressure-depleted oil reservoirs to stimulate further production.
Unconventional/horizontal wells in the Permian typically generate much less produced water per barrel of oil –– generally one to four barrels per barrel of crude –– but there's no room in the shale/tight sands for re-injection.
Dealing with this produced water often involves trucking long distances to saltwater disposal wells, but producers and midstream companies now are scrambling to develop pipeline networks to reduce transportation costs.
Increasing volumes of produced water are being treated for re-use in hydraulic fracturing.
Splish Splash - Water Challenges Permian Growth is included in RBN Energy's 2018 Drill Down report series, a suite of reports covering many of the key issues expected to impact the markets for crude oil, natural gas and natural gas liquids. Drill Down reports are part of RBN Backstage Pass™ premium resources that also include Blog Archive Access, Spotcheck Indicators, Market Fundamentals Webcasts, Get-Togethers and more. By subscribing to RBN's Backstage Pass™ Premium Services, you plug into our network and get direct access to our premium resources.
Download a preview of Splish Splash - Water Challenges Permian Growth