Production Rising, Infrastructure Expansions Under Way
Buy Individual ReportFull Report Downloads for Subscribers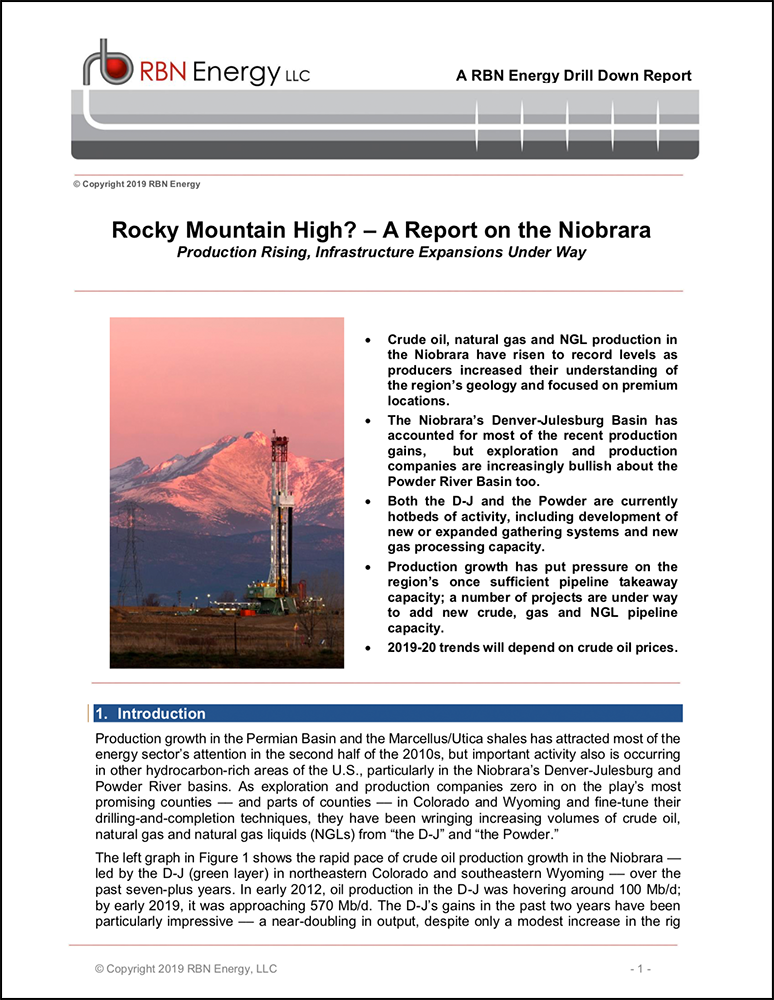 Production growth in the Permian Basin and the Marcellus/Utica shales has attracted most of the energy sector's attention in the second half of the 2010s, but important activity also is occurring in other hydrocarbon-rich areas of the U.S., particularly in the Niobrara's Denver-Julesburg and Powder River basins. As exploration and production companies zero in on the play's most promising counties — and parts of counties — in Colorado and Wyoming and fine-tune their drilling-and-completion techniques, they have been wringing increasing volumes of crude oil, natural gas and natural gas liquids (NGLs) from "the D-J" and "the Powder."
Rising production of crude oil, natural gas and NGLs — and the prospect of continued growth — have put a spotlight on the Niobrara in recent months. Also, a number of E&Ps have been talking up their improved well productivity, their efforts to hold down or even reduce drilling and completion costs (despite inflationary pressures), and their plans for expanded drilling activity in the D-J and/or the Powder this year and next. This report will discuss Niobrara production; existing gas processing plants, takeaway pipelines and other infrastructure, as well as the need for additional processing and pipeline capacity and the plans by midstream companies to make those additions.
Key take-aways from the report include:
Crude oil, natural gas and NGL production in the Niobrara have risen to record levels as producers increased their understanding of the region's geology and focused on premium locations.
The Niobrara's Denver-Julesburg Basin has accounted for most of the recent production gains, but exploration and production companies are increasingly bullish about the Powder River Basin too.
Both the D-J and the Powder are currently hotbeds of activity, including development of new or expanded gathering systems and new gas processing capacity.
Production growth has put pressure on the region's once sufficient pipeline takeaway capacity; a number of projects are under way to add new crude, gas and NGL pipeline capacity.
2019-20 trends will depend on crude oil prices.
"Rocky Mountain High" is included in RBN Energy's 2019 Drill Down report series, a suite of reports covering many of the key issues expected to impact the markets for crude oil, natural gas and natural gas liquids. Drill Down reports are part of RBN Backstage Pass™ premium resources that also include Blog Archive Access, Spotcheck Indicators, Market Fundamentals Webcasts, Get-Togethers and more. By subscribing to RBN's Backstage Pass™ Premium Services, you plug into our network and get direct access to our premium resources.
Download a preview of Rocky Mountain High? - A Report on the Niobrara.