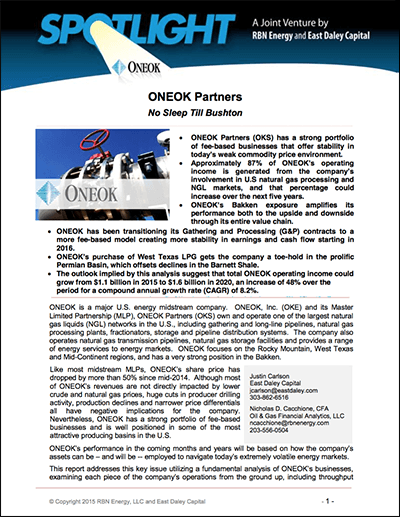 ONEOK Partners (OKS) own and operate one of the largest natural gas liquid (NGL) networks in the U.S. Like most midstream MLPs, OKS' stock price has dropped by more than 50% since mid-2014. This despite the fact that most of ONEOK's revenues are not directly impacted by lower crude and natural gas prices. In this, the first of our new Spotlight reports, we feature a deep-dive into ONEOKs operating assets. Our analysis indicates that the company has a strong portfolio of fee based business fed by some of the most attractive producing basins in the U.S., particularly the Bakken which has the potential to amplify the company's performance both to the upside and downside.
Spotlight is a joint venture between RBN Energy, LLC and East Daley Capital Advisors, Inc. We have joined together with the support of Oil & Gas Financial Analytics, LLC to provide comprehensive, detailed insight into the companies we select for our analysis. Using publicly available data and the deep experience of our combined teams, we get to answers that can be overlooked in the more high-level assessments in the marketplace today. Instead we get into the nitty-gritty, integrating fundamentals, market information and company data into a comprehensive model that provides a clear picture of the company and its prospects. As with all energy fundamental analysis, Spotlight reports rely on estimates and approximations of volumes, throughputs and fees. No non-public data from the subject company or any other source has been used in the preparation of this report.
Report highlights include:
ONEOK Partners (OKS) has a strong portfolio of fee-based businesses that offer stability in today's weak commodity price environment.
Approximately 87% of ONEOK's operating income is generated from the company's involvement in U.S natural gas processing and NGL markets, and that percentage could increase over the next five years.
ONEOK's Bakken exposure amplifies its performance both to the upside and downside through its entire value chain.
ONEOK has been transitioning its Gathering and Processing (G&P) contracts to a more fee-based model creating more stability in earnings and cash flow starting in 2016.
ONEOK's purchase of West Texas LPG gets the company a toe-hold in the prolific Permian Basin, which offsets declines in the Barnett Shale.
The outlook implied by this analysis suggest that total ONEOK operating income could grow from $1.1 billion in 2015 to $1.6 billion in 2020, an increase of 48% over the period for a compound annual growth rate (CAGR) of 8.2%.
Spotlight: ONEOK - No Sleep Till Bushton is included as the eleventh in RBN's Drill Down report series, a suite of monthly reports covering many of the key issues expected to impact the markets for crude oil, natural gas and natural gas liquids.
Spotlight reports are part of RBN Backstage Pass™ premium resources that also include Blog Archive Access, Spotcheck Indicators, Market Fundamentals Webcasts, Get-Togethers and more. By subscribing to RBN's Backstage Pass™ Premium Services, you plug into our network and get direct access to our premium resources.
Click to download a preview of No Sleep Till Bushton