Buy Individual ReportFull Report Download for Subscribers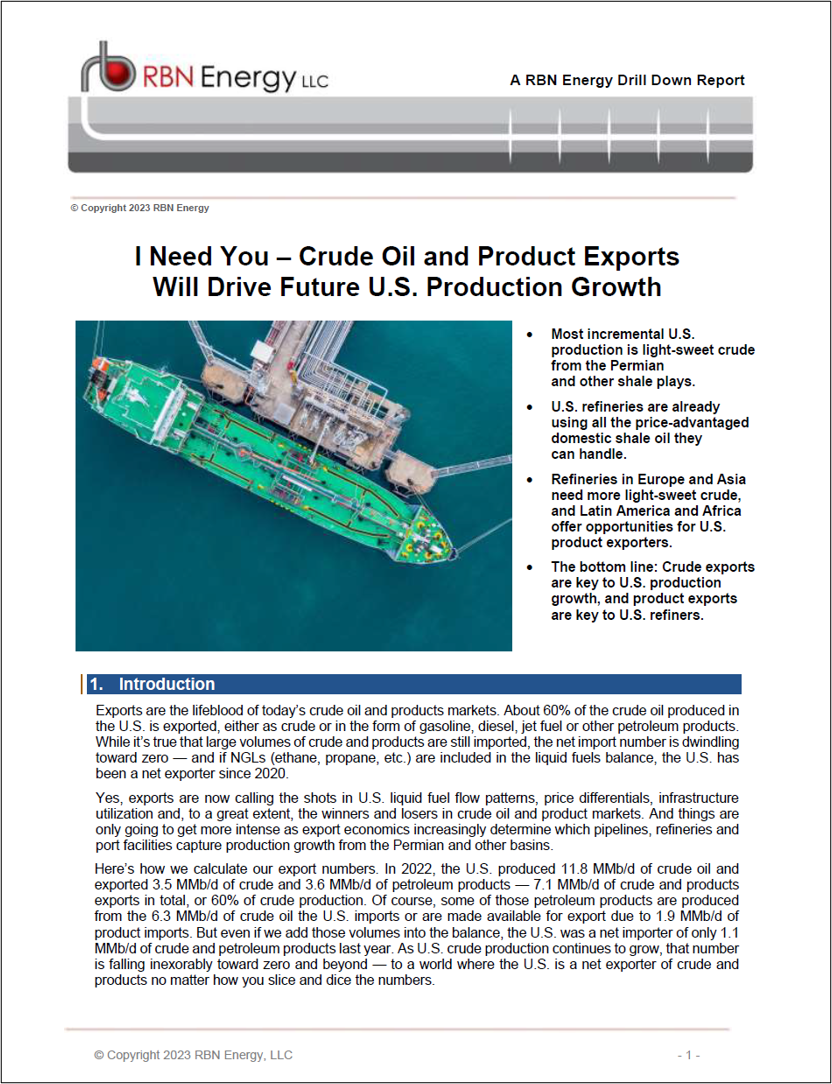 Exports are the lifeblood of today's crude oil and products markets. About 60% of the crude oil produced in the U.S. is exported, either as crude or in the form of gasoline, diesel, jet fuel or other petroleum products. While it's true that large volumes of crude and products are still imported, the net import number is dwindling toward zero — and if NGLs (ethane, propane, etc.) are included in the liquid fuels balance, the U.S. has been a net exporter since 2020.
Yes, exports are now calling the shots in U.S. liquid fuel flow patterns, price differentials, infrastructure utilization and, to a great extent, the winners and losers in crude oil and product markets. And things are only going to get more intense as export economics increasingly determine which pipelines, refineries and port facilities capture production growth from the Permian and other basins.
Key takeaways from the report include:
Most incremental U.S. production is light-sweet crude from the Permian and other shale plays.
U.S. refineries are already using all the price-advantaged domestic shale oil they can handle.
Refineries in Europe and Asia need more light-sweet crude, and Latin America and Africa offer opportunities for U.S. product exporters.
The bottom line: Crude exports are key to U.S. production growth, and product exports are key to U.S. refiners.

"I Need You" is included in RBN Energy's 2023 Drill Down report series, a suite of reports covering many of the key issues expected to impact the markets for crude oil, natural gas and natural gas liquids. Drill Down reports are part of RBN Backstage Pass™ premium resources that also include Blog Archive Access, Spotcheck Indicators, Market Fundamentals Webcasts, Get-Togethers and more. By subscribing to RBN's Backstage Pass™ Premium Services, you plug into our network and get direct access to our premium resources.
Download a preview of I Need You