Rising Crude Export Volumes Drive Onshore, Offshore Projects
Buy Individual ReportFull Report Downloads for Subscribers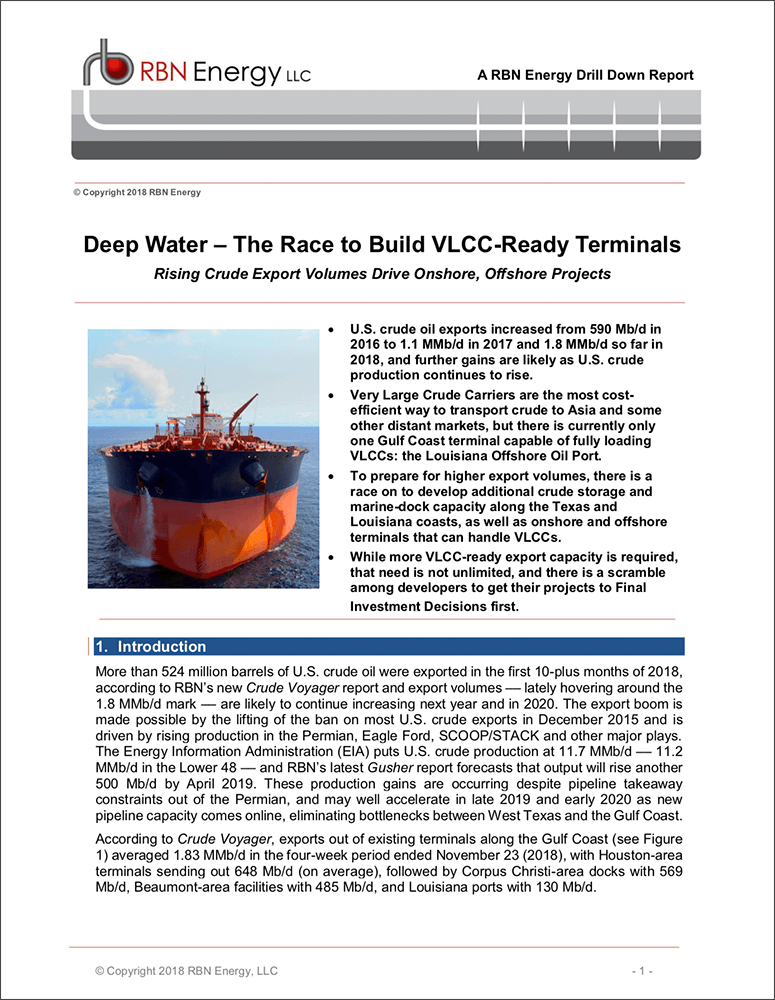 More than 524 million barrels of U.S. crude oil were exported in the first 10-plus months of 2018, according to RBN's new Crude Voyager report and export volumes — lately hovering around the 1.8 MMb/d mark — are likely to continue increasing next year and in 2020. The export boom is made possible by the lifting of the ban on most U.S. crude exports in December 2015 and is driven by rising production in the Permian, Eagle Ford, SCOOP/STACK and other major plays. The Energy Information Administration (EIA) puts U.S. crude production at 11.7 MMb/d — 11.2 MMb/d in the Lower 48 — and RBN's latest Gusher report forecasts that output will rise another 500 Mb/d by April 2019. These production gains are occurring despite pipeline takeaway constraints out of the Permian and may well accelerate in late 2019 and early 2020 as new pipeline capacity comes online, eliminating bottlenecks between West Texas and the Gulf Coast.
This Drill Down Report focuses primarily on the projects that would involve the construction of new offshore or onshore terminals with the ability to fully load VLCCs. The report also discusses ongoing efforts at LOOP — its existing capabilities as well as the efforts to enable a wider variety of U.S. and Canadian crudes to flow to LOOP's Clovelly storage hub, the staging point for crude exported through the offshore terminal.
Key take-aways from the report include:
U.S. crude oil exports increased from 590 Mb/d in 2016 to 1.1 MMb/d in 2017 and 1.8 MMb/d so far in 2018, and further gains are likely as U.S. crude production continues to rise.
Very Large Crude Carriers are the most cost-efficient way to transport crude to Asia and some other distant markets, but there is currently only one Gulf Coast terminal capable of fully loading VLCCs: the Louisiana Offshore Oil Port.
To prepare for higher export volumes, there is a race on to develop additional crude storage and marine-dock capacity along the Texas and Louisiana coasts, as well as onshore and offshore terminals that can handle VLCCs.
While more VLCC-ready export capacity is required, that need is not unlimited, and there is a scramble among developers to get their projects to Final Investment Decisions first.
Deep Water is included in RBN Energy's 2018 Drill Down report series, a suite of reports covering many of the key issues expected to impact the markets for crude oil, natural gas and natural gas liquids. Drill Down reports are part of RBN Backstage Pass™ premium resources that also include Blog Archive Access, Spotcheck Indicators, Market Fundamentals Webcasts, Get-Togethers and more. By subscribing to RBN's Backstage Pass™ Premium Services, you plug into our network and get direct access to our premium resources.
Download a preview of Deep Water - The Race to Build VLCC-Ready Terminals