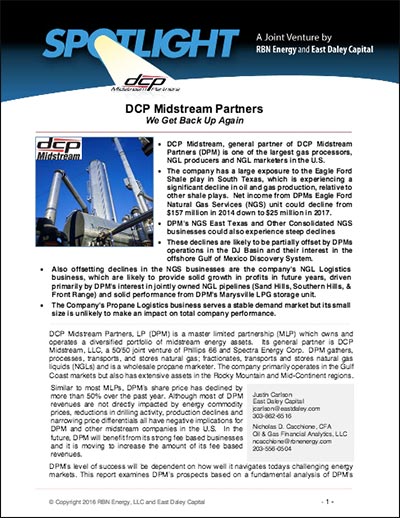 DCP Midstream, general partner of DCP Midstream Partners (DPM) is one of the largest gas processors, NGL producers and NGL marketers in the U.S. The general partner of the DPM master limited partnership (MLP) is DCP Midstream, LLC, a 50/50 joint venture of Phillips 66 and Spectra.  In this, the second of our new Spotlight reports, we feature a deep-dive into DPMs operating assets.  Our analysis indicates that despite exposure to difficult market conditions in the Eagle Ford and East Texas, a strong performance from the NGL logistics segment may propel a 20% gain in net income between 2015 and 2017.
Spotlight is a joint venture between RBN Energy, LLC and East Daley Capital Advisors, Inc.  We have joined together with the support of Oil & Gas Financial Analytics, LLC to provide comprehensive, detailed insight into the companies we select for our analysis.  Using publically available data and the deep experience of our combined teams, we get to answers that can be overlooked in the more high-level assessments in the marketplace today.  Instead we get into the nitty-gritty, integrating fundamentals, market information and company data into a comprehensive model that provides a clear picture of the company and its prospects.  As with all energy fundamental analysis, Spotlight reports rely on estimates and approximations of volumes, throughputs and fees.   No non-public data from the subject company or any other source has been used in the preparation of this report. 
Report highlights include:
The company has a large exposure to the Eagle Ford Shale play in South Texas, which is experiencing a significant decline in oil and gas production, relative to other shale plays.  Net income from DPMs Eagle Ford Natural Gas Services (NGS) unit could decline from $157 million in 2014 down to $25 million in 2017.
DPM's NGS East Texas and Other Consolidated NGS businesses could also experience steep declines
These declines are likely to be partially offset by DPMs operations in the DJ Basin and their interest in the offshore Gulf of Mexico Discovery System.
Also offsetting declines in the NGS businesses are the company's NGL Logistics business, which are likely to provide solid growth in profits in future years, driven primarily by DPM's interest in jointly owned NGL pipelines (Sand Hills, Southern Hills, & Front Range) and solid performance from DPM's Marysville LPG storage unit.
The Company's Propane Logistics business serves a stable demand market but its small size is unlikely to make an impact on total company performance.
Spotlight: DCP Midstream Partners: We Get Back Up Again is included as the second in RBN's 2016 Drill Down report series, a suite of monthly reports covering many of the key issues expected to impact the markets for crude oil, natural gas and natural gas liquids. Spotlight reports are part of RBN Backstage Pass™ premium resources that also include Blog Archive Access, Spotcheck Indicators, Market Fundamentals Webcasts, Get-Togethers and more. By subscribing to RBN's Backstage Pass™ Premium Services, you plug into our network and get direct access to our premium resources.
Click to download a preview of We Get Back Up Again.