What Rising Production and LNG Exports Will Mean for Appalachian Gas Flows & Prices
Buy Individual ReportFull Report Downloads for Subscribers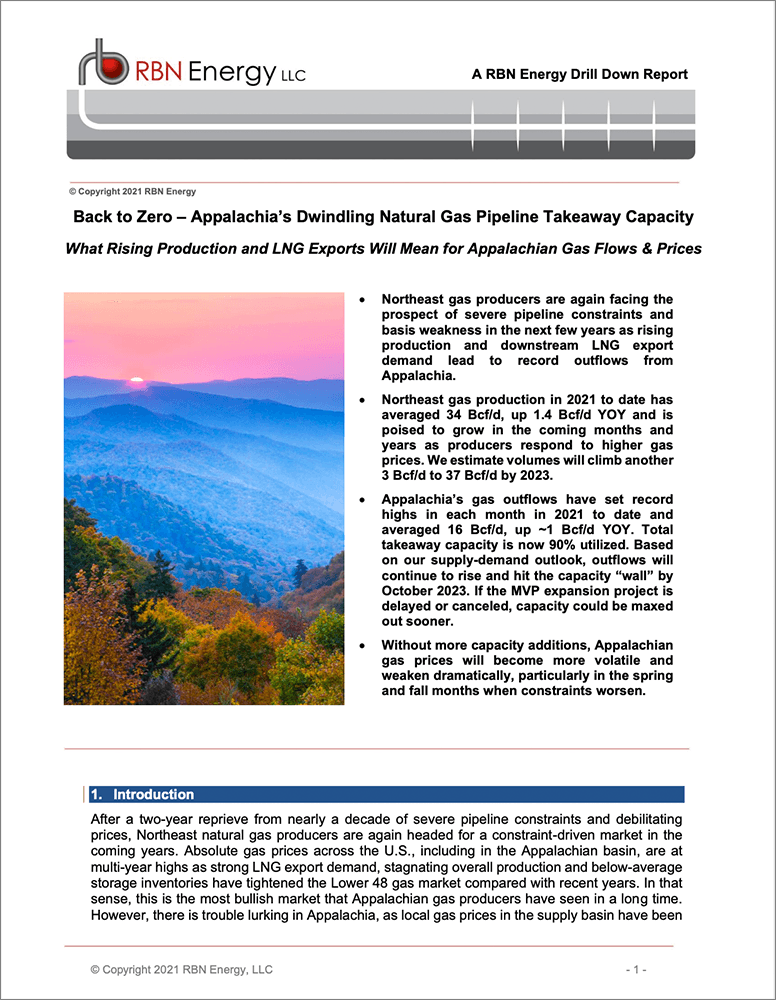 After a two-year reprieve from nearly a decade of severe pipeline constraints and debilitating prices, Northeast natural gas producers are again headed for a constraint-driven market in the coming years. Absolute gas prices across the U.S., including in the Appalachian basin, are at multi-year highs as strong LNG export demand, stagnating overall production and below-average storage inventories have tightened the Lower 48 gas market compared with recent years. In that sense, this is the most bullish market that Appalachian gas producers have seen in a long time. However, there is trouble lurking in Appalachia, as local gas prices in the supply basin have been progressively weakening relative to Henry Hub since 2019, signaling the return of pipeline constraints for moving gas out of the production region. This is in large part due to a growing supply surplus in the Northeast.
This Drill Down report brings together our latest analysis on Northeast production trends, gas takeaway capacity and flows to identify the challenges facing regional producers and midstreamers and provide an outlook for how takeaway constraints and basis weakness could unfold in the coming years based on current assumptions.
Key takeaways from the report include:
Northeast gas producers are again facing the prospect of severe pipeline constraints and basis weakness in the next few years as rising production and downstream LNG export demand lead to record outflows from Appalachia.
Northeast gas production in 2021 to date has averaged 34 Bcf/d, up 1.4 Bcf/d YOY and is poised to grow in the coming months and years as producers respond to higher gas prices. We estimate volumes will climb another 3 Bcf/d to 37 Bcf/d by 2023.
Appalachia's gas outflows have set record highs in each month in 2021 to date and averaged 16 Bcf/d, up ~1 Bcf/d YOY. Total takeaway capacity is now 90% utilized. Based on our supply-demand outlook, outflows will continue to rise and hit the capacity "wall" by October 2023. If the MVP expansion project is delayed or canceled, capacity could be maxed out sooner.
Without more capacity additions, Appalachian gas prices will become more volatile and weaken dramatically, particularly in the spring and fall months when constraints worsen.
Back to Zero is included in RBN Energy's 2021 Drill Down report series, a suite of reports covering many of the key issues expected to impact the markets for crude oil, natural gas and natural gas liquids. Drill Down reports are part of RBN Backstage Pass™ premium resources that also include Blog Archive Access, Spotcheck Indicators, Market Fundamentals Webcasts, Get-Togethers and more. By subscribing to RBN's Backstage Pass™ Premium Services, you plug into our network and get direct access to our premium resources.