E&Ps, Midstreamers and Refiners Implementing Strategies to Reduce GHGs
Buy Individual ReportFull Report Download for Subscribers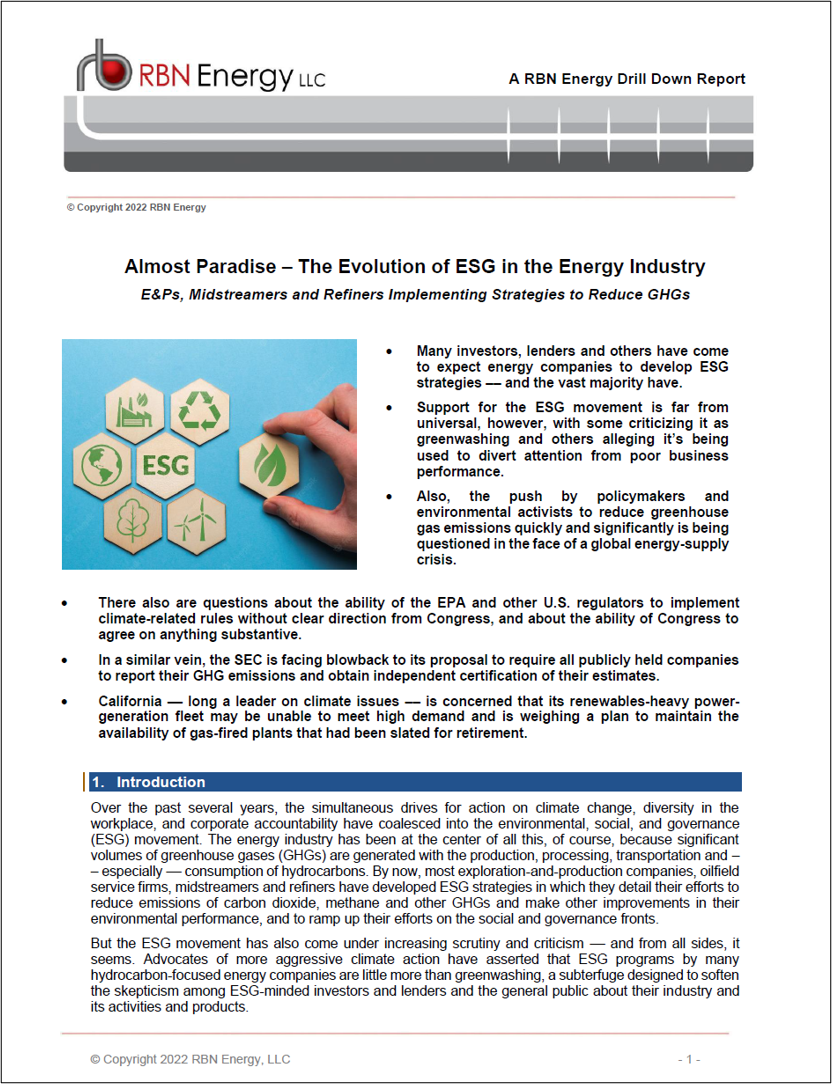 Over the past several years, the simultaneous drives for action on climate change, diversity in the workplace, and corporate accountability have coalesced into the environmental, social, and governance (ESG) movement. The energy industry has been at the center of all this, of course, because significant volumes of greenhouse gases (GHGs) are generated with the production, processing, transportation and –– especially –– consumption of hydrocarbons. By now, most exploration-and-production companies, oilfield service firms, midstreamers and refiners have developed ESG strategies in which they detail their efforts to reduce emissions of carbon dioxide, methane and other GHGs and make other improvements in their environmental performance, and to ramp up their efforts on the social and governance fronts.
Say what you will about ESG — and many are critical of it — but it would be hard to argue against energy companies taking the time to examine where they stand on environmental, social and governance issues, and whether it might be worth their while to at least consider operational and managerial measures that would keep them within the mainstream of their peers. After all, improved environmental performance and efficiency, an inclusive and satisfied workforce, and better corporate practices and processes all can help a company prepare for upcoming regulations, attract the best staff, and make it even more attractive to investors
Key takeaways from the report include:
Many investors, lenders and others have come to expect energy companies to develop ESG strategies

— 

and the vast majority have.
Support for the ESG movement is far from universal, however, with some criticizing it as greenwashing and others alleging it's being used to divert attention from poor business performance.
Also, the push by policymakers and environmental activists to reduce greenhouse gas emissions quickly and significantly is being questioned in the face of a global energy-supply crisis.
There also are questions about the ability of the EPA and other U.S. regulators to implement climate-related rules without clear direction from Congress, and about the ability of Congress to agree on anything substantive.
In a similar vein, the SEC is facing blowback to its proposal to require all publicly held companies to report their GHG emissions and obtain independent certification of their estimates.
California

— 

long a leader on climate issues

— 

is concerned that its renewables-heavy power-generation fleet may be unable to meet high demand and is weighing a plan to maintain the availability of gas-fired plants that had been slated for retirement.
"Almost Paradise" is included in RBN Energy's 2022 Drill Down report series, a suite of reports covering many of the key issues expected to impact the markets for crude oil, natural gas and natural gas liquids. Drill Down reports are part of RBN Backstage Pass™ premium resources that also include Blog Archive Access, Spotcheck Indicators, Market Fundamentals Webcasts, Get-Togethers and more. By subscribing to RBN's Backstage Pass™ Premium Services, you plug into our network and get direct access to our premium resources.