Buy Individual ReportFull Report Download for Subscribers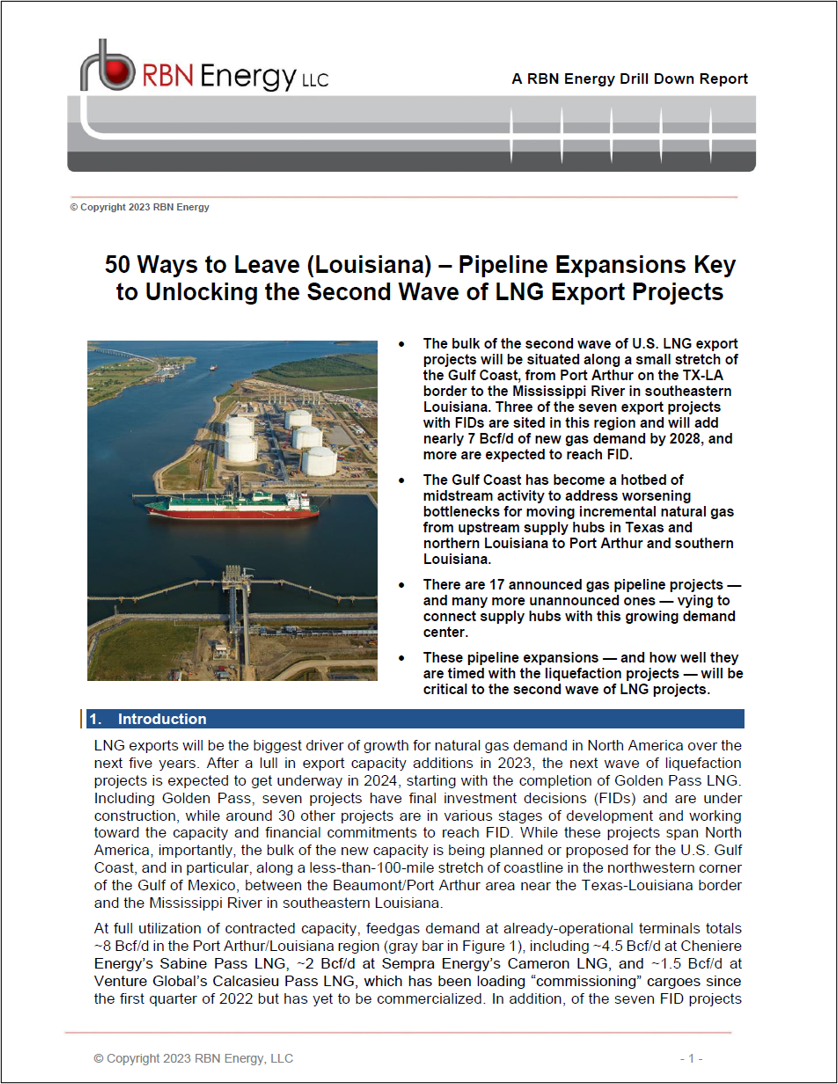 LNG exports will be the biggest driver of growth for natural gas demand in North America over the next five years. After a lull in export capacity additions in 2023, the next wave of liquefaction projects is expected to get underway in 2024, starting with the completion of Golden Pass LNG. Including Golden Pass, seven projects have final investment decisions (FIDs) and are under construction, while around 30 other projects are in various stages of development and working toward the capacity and financial commitments to reach FID. While these projects span North America, importantly, the bulk of the new capacity is being planned or proposed for the U.S. Gulf Coast, and in particular, along a less-than-100-mile stretch of coastline in the northwestern corner of the Gulf of Mexico, between the Beaumont/Port Arthur area near the Texas-Louisiana border and the Mississippi River in southeastern Louisiana.
In this Drill Down Report, we detail the announced pipeline projects that are directly or indirectly targeting LNG export demand in the Port Arthur, TX/Louisiana region, including their status, routes, capacities, timing, and associated LNG facilities.
Key takeaways from the report include:
The bulk of the second wave of U.S. LNG export projects will be situated along a small stretch of the Gulf Coast, from Port Arthur on the TX-LA border to the Mississippi River in southeastern Louisiana. Three of the seven export projects with FIDs are sited in this region and will add nearly 7 Bcf/d of new gas demand by 2028, and more are expected to reach FID.
The Gulf Coast has become a hotbed of midstream activity to address worsening bottlenecks for moving incremental natural gas from upstream supply hubs in Texas and northern Louisiana to Port Arthur and southern Louisiana.
There are 17 announced gas pipeline projects — and many more unannounced ones — vying to connect supply hubs with this growing demand center.
These pipeline expansions — and how well they are timed with the liquefaction projects — will be critical to the second wave of LNG projects.
"50 Ways to Leave (Louisiana)" is included in RBN Energy's 2023 Drill Down report series, a suite of reports covering many of the key issues expected to impact the markets for crude oil, natural gas and natural gas liquids. Drill Down reports are part of RBN Backstage Pass™ premium resources that also include Blog Archive Access, Spotcheck Indicators, Market Fundamentals Webcasts, Get-Togethers and more. By subscribing to RBN's Backstage Pass™ Premium Services, you plug into our network and get direct access to our premium resources.
Download a preview of 50 Ways to Leave (Louisiana)