Buy Individual ReportFull Report Downloads for Subscribers
Exports Rose As New Terminals Came Online, But What Now?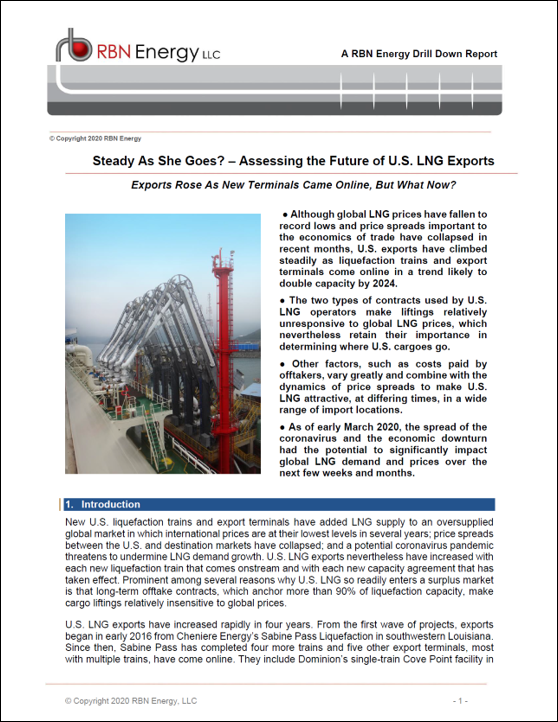 New U.S. liquefaction trains and export terminals have added LNG supply to an oversupplied global market in which international prices are at their lowest levels in several years; price spreads between the U.S. and destination markets have collapsed; and a coronavirus pandemic threatens to undermine LNG demand growth. U.S. LNG exports nevertheless have increased with each new liquefaction train that comes onstream and with each new capacity agreement that has taken effect. Prominent among several reasons why U.S. LNG so readily enters a surplus market is that long-term offtake contracts, which anchor more than 90% of liquefaction capacity, make cargo liftings relatively insensitive to global prices.
In this Drill Down Report, we show how contract design and offtake patterns thus far have kept U.S. LNG flowing to international markets - seemingly in defiance of price relationships — and how LNG exports are contributing to a reshaping of the domestic market in a way that is likely to make gas prices increasingly volatile.
Key take-aways from the report include:
Although global LNG prices have fallen to record lows and price spreads important to the economics of trade have collapsed in recent months, U.S. exports have climbed steadily as liquefaction trains and export terminals come online in a trend likely to double capacity by 2024.
The two types of contracts used by U.S. LNG operators make liftings relatively unresponsive to global LNG prices, which nevertheless retain their importance in determining where U.S. cargoes go.
Other factors, such as costs paid by offtakers, vary greatly and combine with the dynamics of price spreads to make U.S. LNG attractive, at differing times, in a wide range of import locations.
As of early March 2020, the spread of the coronavirus and the economic downturn had the potential to significantly impact global LNG demand and prices over the next few weeks and months.
Steady As She Goes is included in RBN Energy's 2020 Drill Down report series, a suite of reports covering many of the key issues expected to impact the markets for crude oil, natural gas and natural gas liquids. Drill Down reports are part of RBN Backstage Pass™ premium resources that also include Blog Archive Access, Spotcheck Indicators, Market Fundamentals Webcasts, Get-Togethers and more. By subscribing to RBN's Backstage Pass™ Premium Services, you plug into our network and get direct access to our premium resources.