Buy Individual ReportFull Report Downloads for Subscribers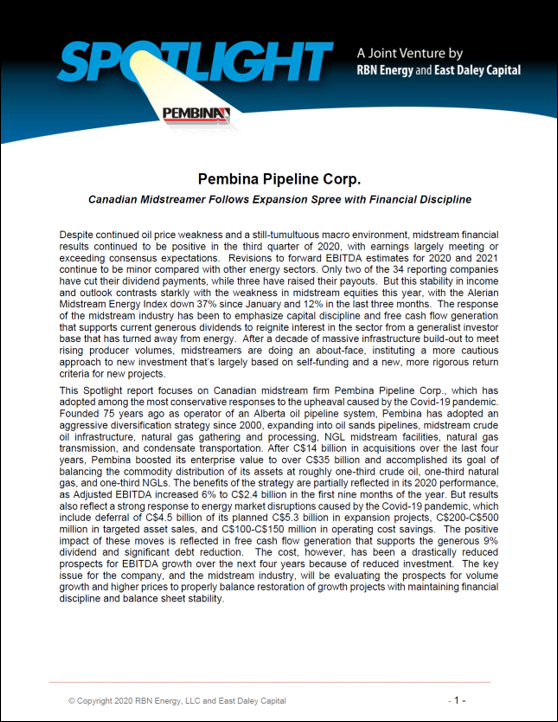 This Spotlight report focuses on Canadian midstream firm Pembina Pipeline Corp., which has adopted among the most conservative responses to the upheaval caused by the Covid-19 pandemic. Founded 75 years ago as operator of an Alberta oil pipeline system, Pembina has adopted an aggressive diversification strategy since 2000, expanding into oil sands pipelines, midstream crude oil infrastructure, natural gas gathering and processing, NGL midstream facilities, natural gas transmission, and condensate transportation. After C$14 billion in acquisitions over the last four years, Pembina boosted its enterprise value to over C$35 billion and accomplished its goal of balancing the commodity distribution of its assets at roughly one-third crude oil, one-third natural gas, and one-third NGLs. The benefits of the strategy are partially reflected in its 2020 performance, as adjusted EBITDA increased 6% to C$2.4 billion in the first nine months of the year. But results also reflect a strong response to energy market disruptions caused by the Covid-19 pandemic, which include deferral of C$4.5 billion of its planned C$5.3 billion in expansion projects, C$200-C$500 million in targeted asset sales, and C$100-C$150 million in operating cost savings. The positive impact of these moves is reflected in free cash flow generation that supports the generous 9% dividend and significant debt reduction. The cost, however, has been a drastically reduced prospects for EBITDA growth over the next four years because of reduced investment. The key issue for the company, and the midstream industry, will be evaluating the prospects for volume growth and higher prices to properly balance restoration of growth projects with maintaining financial discipline and balance sheet stability.
Conclusions by East Daley Capital include:
Pembina's total EBITDA is forecast to be virtually flat over the next four years, rising about 1% per year from C$3.272 billion in 2020 to C$3.411 billion in 2023.
Pipeline Division EBITDA, which represents 64% of the company total, will decrease from C$2.144 billion in 2020 to C$2.036 billion in 2023 on a significant drop in earnings from its U.S. Rockies Ruby Pipeline.
Facilities Division EBITDA, which contributed 31% of current total EBITDA, will rise 5% to C$1.076 billion on recently completed growth projects and acquisitions.
Marketing and New Ventures Division EBITDA is forecast to nearly double to C$436 million in 2023 on a recovery in commodity margins.
The deferred growth project with the largest potential impact is Pembina's joint venture development of an Edmonton PDH/PP Facility that could generate between C$275-$375 million in annual run rate EBITDA.
The timing of expansions to Pembina's natural gas and NGL pipelines and processing infrastructure depend on a resumption of drilling in the Western Canada Sedimentary Basin (WCSB).
The most significant risk to Pembina's future earnings is a prolonged downturn in commodity prices that depress Marketing Division earnings.
Spotlight: Pembina Pipeline Corp. is included in RBN's Drill Down report series, a suite of reports covering many of the key issues expected to impact the markets for crude oil, natural gas and natural gas liquids. Spotlight reports are part of RBN Backstage Pass™ premium resources that also include Blog Archive Access, Spotcheck Indicators, Market Fundamentals Webcasts, Get-Togethers and more. Spotlight is a joint venture of RBN Energy and East Daley Capital Advisors.  By subscribing to RBN's Backstage Pass™ Premium Services, you plug into our network and get direct access to our premium resources.
For more information on our friends at East Daley Capital, please visit: https://rbnenergy.com/partners/east-daley-capital-advisors
Download a preview of Spotlight: Pembina Pipeline Corp. – Canadian Midstreamer Follows Expansion Spree with Financial Discipline