Buy Individual ReportFull Report Downloads for Subscribers
Spotlight: NuStar Energy: Strong Permian Assets Support Growth in EBITDA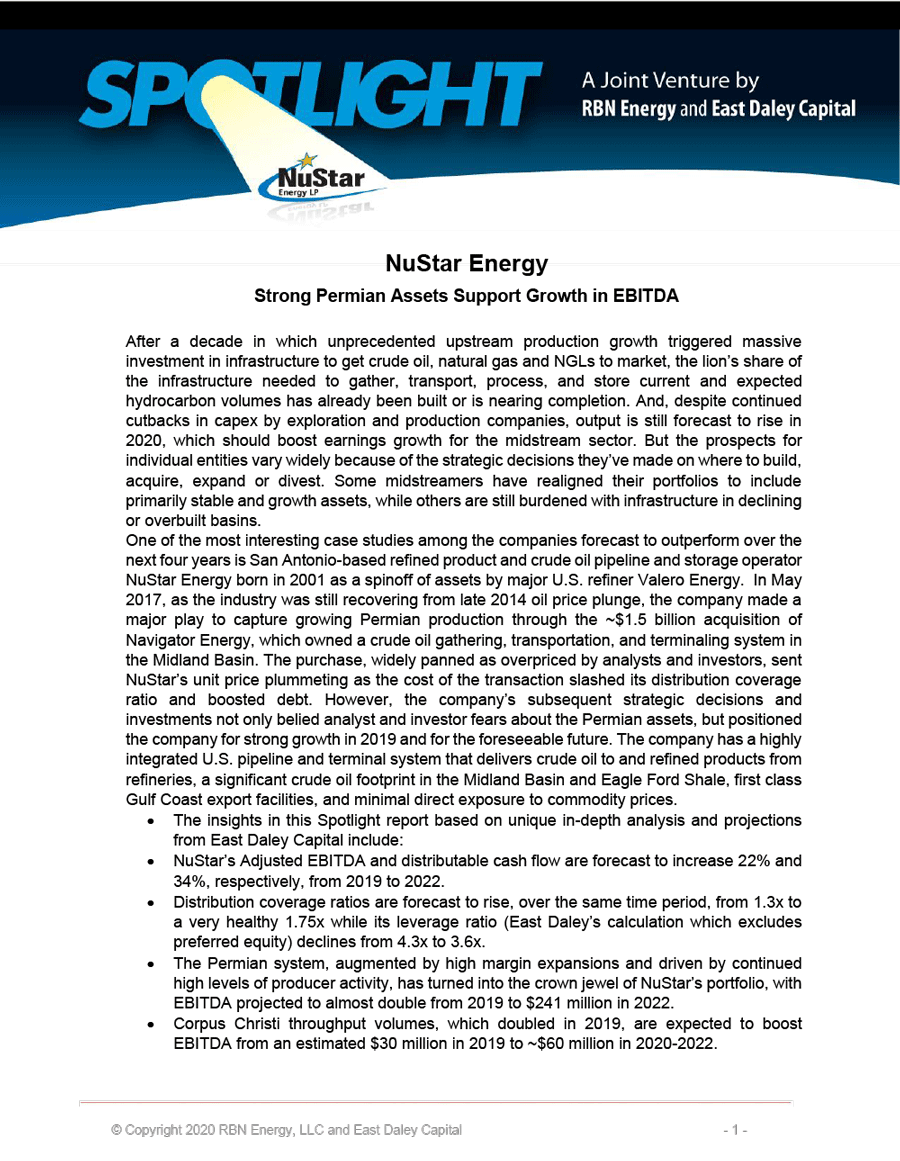 One of the most interesting case studies among the companies forecast to outperform over the next four years is San Antonio-based refined product and crude oil pipeline and storage operator NuStar Energy, born in 2001 as a spinoff of assets by major U.S. refiner Valero Energy.  In May 2017, as the industry was still recovering from late 2014 oil price plunge, the company made a major play to capture growing Permian production through the ~$1.5 billion acquisition of Navigator Energy, which owned a crude oil gathering, transportation, and terminaling system in the Midland Basin. The purchase, widely panned as overpriced by analysts and investors, sent NuStar's unit price plummeting as the cost of the transaction slashed its distribution coverage ratio and boosted debt. However, the company's subsequent strategic decisions and investments not only belied analyst and investor fears about the Permian assets, but positioned the company for strong growth in 2019 and for the foreseeable future. The company has a highly integrated U.S. pipeline and terminal system that delivers crude oil to and refined products from refineries, a significant crude oil footprint in the Midland Basin and Eagle Ford Shale, first class Gulf Coast export facilities, and minimal direct exposure to commodity prices.
The insights in this Spotlight report based on unique in-depth analysis and projections from East Daley Capital include:
NuStar's Adjusted EBITDA and distributable cash flow are forecast to increase 22% and 34%, respectively, from 2019 to 2022.
Distribution coverage ratios are forecast to rise, over the same time period, from 1.3x to a very healthy 1.75x while its leverage ratio (East Daley's calculation which excludes preferred equity) declines from 4.3x to 3.6x.
The Permian system, augmented by high margin expansions and driven by continued high levels of producer activity, has turned into the crown jewel of NuStar's portfolio, with EBITDA projected to almost double from 2019 to $241 million in 2022.
Corpus Christi throughput volumes, which doubled in 2019, are expected to boost EBITDA from an estimated $30 million in 2019 to ~$60 million in 2020-2022.
NuStar will get EBITDA boosts from expansions on its systems to ship refined products to Mexico and its West Coast bio fuel terminals as well as the closure of a competing system to its Ammonia Pipeline.
Earnings from its extensive U.S. refined product pipeline systems, the most stable midstream assets, will increase moderately over the next four years. NuStar's growth capex will decline by 30% in 2020 as the company focuses on high margin, bolt-on expansions to its Permian crude system, Corpus Christi and St. James hubs, West Coast bio-fuels storage system, and Mexico refined product export infrastructure.
Spotlight: NuStar is included in RBN Energy's 2020 Drill Down report series, a suite of reports covering many of the key issues expected to impact the markets for crude oil, natural gas and natural gas liquids. Drill Down reports are part of RBN Backstage Pass™ premium resources that also include Blog Archive Access, Spotcheck Indicators, Market Fundamentals Webcasts, Get-Togethers and more. By subscribing to RBN's Backstage Pass™ Premium Services, you plug into our network and get direct access to our premium resources.
For more information on our friends at East Daley Capital, please visit: https://rbnenergy.com/partners/east-daley-capital-advisors
Download a preview of Spotlight: NuStar Energy: Strong Permian Assets Support Growth in EBITDA