Buy Individual ReportFull Report Downloads for Subscribers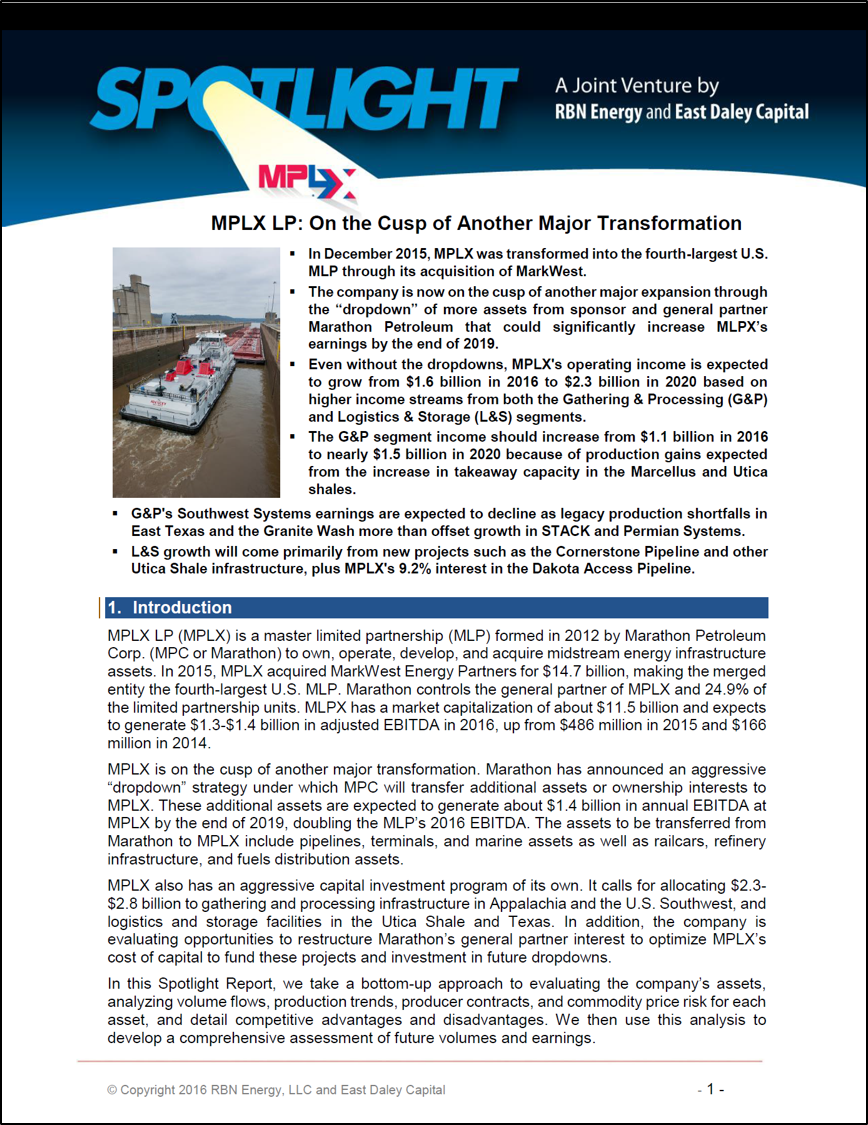 Change continues to come fast and furious to midstream MLPs, with no master limited partnership facing a bigger shift than MPLX. MPLX LP, formed in 2012 by Marathon Petroleum Corp. (MPC), is no stranger to transformation. In 2015, MPLX acquired MarkWest Energy Partners for $14.7 billion, a move that in one fell swoop made the merged entity the fourth-largest MLP in the U.S. In October 2016, Marathon announced an aggressive "dropdown" strategy that will provide MPLX with additional assets that will generate about $1.4 billion in annual earnings by the end of 2019. MPLX also has a significant capital investment program that allocates $2.3-$2.8 billion to build out gathering and processing infrastructure and logistics and storage facilities in Appalachia and Texas.
Key take-aways from the report include:
In December 2015, MPLX was transformed into the fourth-largest U.S. MLP through its acquisition of MarkWest.
The company is now on the cusp of another major expansion through the "dropdown" of more assets from sponsor and general partner Marathon Petroleum that could significantly increase MLPX's earnings by the end of 2019.
Even without the dropdowns, MPLX's operating income is expected to grow from $1.6 billion in 2016 to $2.3 billion in 2020 based on higher income streams from both the Gathering & Processing (G&P) and Logistics & Storage (L&S) segments.
The G&P segment income should increase from $1.1 billion in 2016 to nearly $1.5 billion in 2020 because of production gains expected from the increase in takeaway capacity in the Marcellus and Utica shales.
G&P's Southwest Systems earnings are expected to decline as legacy production shortfalls in East Texas and the Granite Wash more than offset growth in STACK and Permian Systems.
L&S growth will come primarily from new projects such as the Cornerstone Pipeline and other Utica Shale infrastructure, plus MPLX's 9.2% interest in the Dakota Access Pipeline.
In this Spotlight Report, we take a bottom-up approach to evaluating the company's assets, analyzing volume flows, production trends, producer contracts, and commodity price risk for each asset, and detail competitive advantages and disadvantages. We then use this analysis to develop a comprehensive assessment of future volumes and earnings.
MPLX LP: On the Cusp of Another Major Transformation is included as the 11th in RBN's 2016 Drill Down report series, a suite of monthly reports covering many of the key issues expected to impact the markets for crude oil, natural gas and natural gas liquids. Spotlight reports are part of RBN Backstage Pass™ premium resources that also include Blog Archive Access, Spotcheck Indicators, Market Fundamentals Webcasts, Get-Togethers and more. By subscribing to RBN's Backstage Pass™ Premium Services, you plug into our network and get direct access to our premium resources.