Buy Individual ReportFull Report Downloads for Subscribers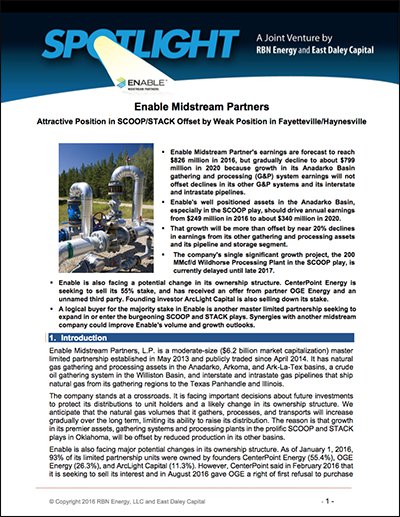 Enable Midstream Partners stands at a crossroads. It has great assets—natural gas gathering and processing operations in the Anadarko, Arkoma, and Ark-La-Tex basins; a crude oil gathering system in the Williston Basin; and interstate/intrastate gas pipelines that ship natural gas from its gathering regions to the Texas Panhandle and Illinois.  The company also has an excellent position in gathering systems and processing plants in the prolific SCOOP and STACK plays in Oklahoma.  But everything is not rosy.  Earnings from the SCOOP/STACK plays are being offset by production declines in its other areas of operation.  On top of that, CenterPoint Energy, which owns 55.4% of Enable's limited partnership units, is seeking to divest its shares, which would bring a new majority owner into the picture.
Enable Midstream Partners' earnings are forecasted to reach $826 million in 2016, but gradually decline to about $799 million in 2020 because growth in its Anadarko Basin gathering and processing (G&P) system earnings will not offset declines in its other G&P systems and its interstate and intrastate pipelines.
Enable's well positioned assets in the Anadarko Basin, especially in the SCOOP play, should drive annual earnings from $249 million in 2016 to about $340 million in 2020.
That growth will be more than offset by near 20% declines in earnings from its other gathering and processing assets and its pipeline and storage segment.
The company's single significant growth project, the 200 MMcf/d Wildhorse Processing Plant in the SCOOP play, is currently delayed until late 2017.
Enable is also facing a potential change in its ownership structure. CenterPoint Energy is seeking to sell its 55% stake, and has received an offer from partner OGE Energy and an unnamed third party. Founding investor ArcLight Capital is also selling down its stake.
A logical buyer for the majority stake in Enable is another master limited partnership seeking to expand in or enter the burgeoning SCOOP and STACK plays. Synergies with another midstream company could improve Enable's volume and growth outlooks.
This Spotlight Report combines fundamental data with deep drill-down analysis to generate detailed forecasts for each of Enable's assets. It explores Enable's competitive advantages in Oklahoma and the risks and potential opportunities provided by its other gathering and processing systems and transportation assets. The report also looks at the potential buyers for the majority interest in Enable and considers possible sales price scenarios.
Spotlight: Enable Midstream Partners - Attractive Position in SCOOP/STACK Offset by Weak Position in Fayetteville/Haynesville is included as the 8th in RBN's 2016 Drill Down report series, a suite of monthly reports covering many of the key issues expected to impact the markets for crude oil, natural gas and natural gas liquids. Spotlight reports are part of RBN Backstage Pass™ premium resources that also include Blog Archive Access, Spotcheck Indicators, Market Fundamentals Webcasts, Get-Togethers and more. By subscribing to RBN's Backstage Pass™ Premium Services, you plug into our network and get direct access to our premium resources.