Policies to promote low-carbon fuels are providing a boost for ethanol, biodiesel, sustainable aviation fuel, and hydrogen
Buy Individual ReportFull Report Download for Subscribers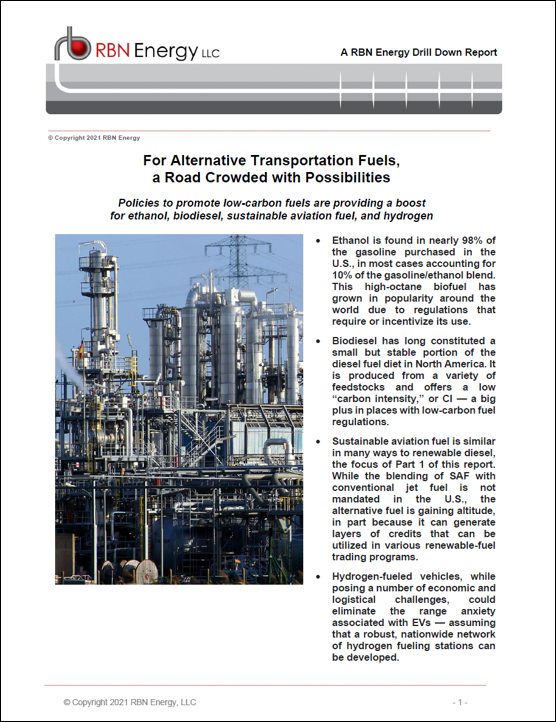 Countries around the world are formulating and refining their strategies to reduce greenhouse gas (GHG) emissions. Their policies target areas such as stationary emissions, electricity production, and transportation. Within the transportation sector, one aspect that has spurred quite a bit of investment relates to reducing the carbon intensity (CI) of transportation fuels. The low-carbon fuel policies that are in place today, coupled with those being evaluated for the future, have the potential to incentivize the development of a wide range of "greener" alternatives to petroleum-based fuels in the regions where they are adopted.
In Part 1 of this Drill Down series, we examined low-carbon fuel policies, with a particular focus on renewable diesel, including how it is made, the advantages it holds over biodiesel, and its potential impacts on refiners and the overall transportation fuels market.
In Part 2, which is again based in large part on work by our friends at Baker & O'Brien, we turn our attention to other alternative transportation fuels that could play a role in the energy transition — ethanol, biodiesel, sustainable aviation fuel, and hydrogen — and how they're affected by government policies at the federal and state levels.
Key takeaways from the report include:
Ethanol is found in nearly 98% of the gasoline purchased in the U.S., in most cases accounting for 10% of the gasoline/ethanol blend. This high-octane biofuel has grown in popularity around the world due to regulations that require or incentivize its use.
Biodiesel has long constituted a small but stable portion of the diesel fuel diet in North America. It is produced from a variety of feedstocks and offers a low "carbon intensity," or CI — a big plus in places with low-carbon fuel regulations.
Sustainable aviation fuel is similar in many ways to renewable diesel, the focus of Part 1 of this report. While the blending of SAF with conventional jet fuel is not mandated in the U.S., the alternative fuel is gaining altitude, in part because it can generate layers of credits that can be utilized in various renewable-fuel trading programs.
Hydrogen-fueled vehicles, while posing a number of economic and logistical challenges, could eliminate the range anxiety associated with EVs — assuming that a robust, nationwide network of hydrogen fueling stations can be developed.
"Driver's Seat, Part 2" is included in RBN Energy's 2021 Drill Down report series, a suite of reports covering many of the key issues expected to impact the markets for crude oil, natural gas and natural gas liquids. Drill Down reports are part of RBN Backstage Pass™ premium resources that also include Blog Archive Access, Spotcheck Indicators, Market Fundamentals Webcasts, Get-Togethers and more. By subscribing to RBN's Backstage Pass™ Premium Services, you plug into our network and get direct access to our premium resources.