Buy Individual ReportFull Report Downloads for Subscribers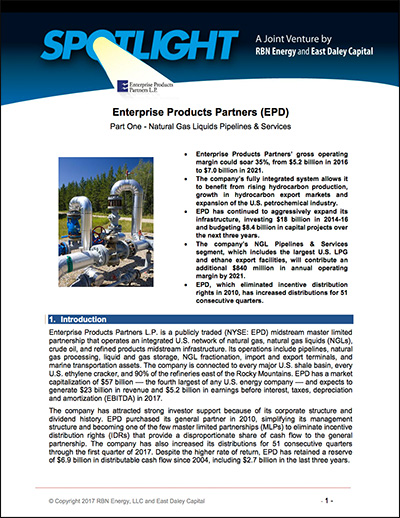 RBN's latest report for Backstage Pass subscribers Spotlights Enterprise Products Partners L.P., a publicly traded (NYSE: EPD) midstream master limited partnership that operates an integrated U.S. network of natural gas, natural gas liquids (NGLs), crude oil, and refined products midstream infrastructure. Its operations include pipelines, natural gas processing, liquid and gas storage, NGL fractionation, import and export terminals, and marine transportation assets. The company is connected to every major U.S. shale basin, every U.S. ethylene cracker, and 90% of the refineries east of the Rocky Mountains. EPD has a market capitalization of $57 billion – the fourth largest of any U.S. energy company – and expects to generate $23 billion in revenue and $5.2 billion in earnings before interest, taxes, depreciation and amortization (EBITDA) in 2017.  EPD has attracted strong investor support because of its corporate structure and dividend history and has positioned itself for dramatic growth over the next five years. 
Key take-aways from the report include:
Enterprise Products Partners' gross operating margin could soar 35%, from $5.2 billion in 2016 to $7.0 billion in 2021.
The company's fully integrated system allows it to benefit from rising hydrocarbon production, growth in hydrocarbon export markets and expansion of the U.S. petrochemical industry.
EPD has continued to aggressively expand its infrastructure, investing $18 billion in 2014-16 and budgeting $8.4 billion in capital projects over the next three years.
The company's NGL Pipelines & Services segment, which includes the largest U.S. LPG and ethane export facilities, will contribute an additional $840 million in annual operating margin by 2021.
EPD, which eliminated incentive distribution rights in 2010, has increased distributions for 51 consecutive quarters.
Because of EPD's size and diversity, we are releasing our Spotlight analysis in two parts. This Part One focuses on the company's largest segment, its NGL Pipelines & Services segment. Part Two (to be released in a few weeks) will focus on the Crude Oil Pipelines & Services, Natural Gas Pipelines & Services, and Petrochemical & Refined Products Services segments.
Enterprise Products Partners (EPD) Part One: Natural Gas Liquids Pipelines & Services is included in RBN's 2017 Drill Down report series, a suite of reports covering many of the key issues expected to impact the markets for crude oil, natural gas and natural gas liquids. Spotlight reports are part of RBN Backstage Pass™ premium resources that also include Blog Archive Access, Spotcheck Indicators, Market Fundamentals Webcasts, Get-Togethers and more. By subscribing to RBN's Backstage Pass™ Premium Services, you plug into our network and get direct access to our premium resources.
Download a preview of Spotlight: Enterprise Products Partners (EPD)