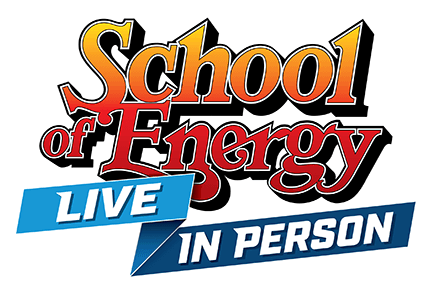 Coming May 17-18, 2022*

Live in Houston, TX
It's been nearly two and half years since the last School of Energy was held in-person instead of online. So, as Rod Stewart likes to say, it is really time to be back at school. Back to a live learning experience and networking. And that is just what we will be doing May 17-18, 2022* –– back in Houston for a new, updated School of Energy designed with energy transition in mind (*subject ot change).
School of Energy Spring 2022 Details Available Via Form Below
Unlike other crude oil, natural gas, NGL, or renewable energy conferences, School of Energy covers all four commodity markets and shows how they fit together. We will get into the details of each with hands-on course work. In each module, we will drill down on the most important aspects of the market today, explain how it works, and provide the spreadsheet models behind our analysis, along with instruction on how to use them.

Held Nov. 9-10, 2021 Online
For those who can't wait for the upcoming live session, all the material from our previous School of Energy conference which was held on November 9-10, 2021 is now available online for purchase!
What You Get
Over 16 hours of streaming video breaking down our latest market analysis, forecasts, and "what it all means" for oil, gas, NGL, CO2, Hydrogen, and Renewable Diesel markets and new (including the Q&A sessions)
Complete slide decks of the presentations to comb through and absorb at your convenience
13 model spreadsheets, along with step-by-step video and PDF instructions so you can run your own scenarios

For those who can't wait for the upcoming live session, all the material from our previous School of Energy conference which was held on November 9-10, 2021 is now available online for purchase!

What You Get

Over 16 hours of streaming video breaking down our latest market analysis, forecasts, and "what it all means" for oil, gas, NGL, CO2, Hydrogen, and Renewable Diesel markets and new (including the Q&A sessions)
Complete slide decks of the presentations to comb through and absorb at your convenience
13 model spreadsheets, along with step-by-step video and PDF instructions so you can run your own scenarios