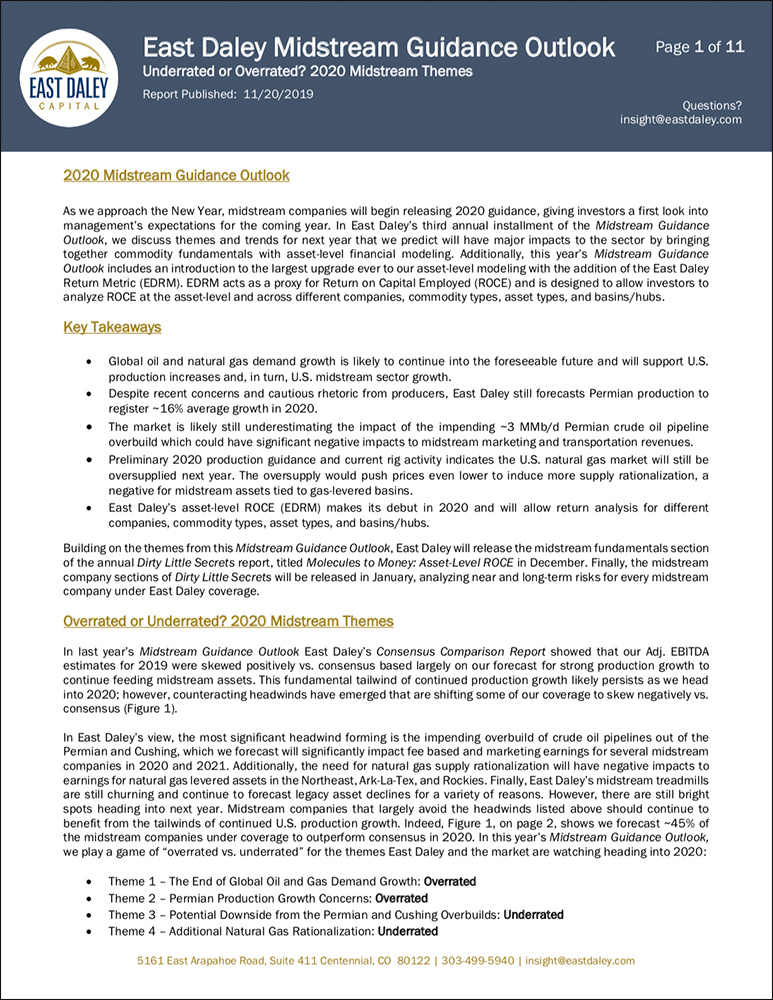 RBN partner and Spotlight Series contributor East Daley Capital is excited to release the 2020 Midstream Guidance Outlook Report, a preview of the biggest trends impacting the midstream sector by bringing together commodity fundamentals with asset-level financial modeling.
Midstream Guidance Outlook Key Takeaways:
Global oil and natural gas demand growth is likely to continue into the foreseeable future and will support U.S. production increases and, in turn, U.S. midstream sector growth.
Despite recent concerns and cautious rhetoric from producers, East Daley still forecasts Permian production to register ~16% average growth in 2020.
The market is likely still underestimating the impact of the impending ~3 MMb/d Permian crude oil pipeline overbuild which could have significant negative impacts to midstream marketing and transportation revenues.
Preliminary 2020 production guidance and current rig activity indicates the U.S. natural gas market will still be oversupplied next year. The oversupply would push prices even lower to induce more supply rationalization, a negative for midstream assets tied to gas-levered basins.
East Daley's asset-level ROCE (EDRM) makes its debut in 2020 and will allow return analysis for different companies, commodity types, asset types, and basins/hubs.
Download the Midstream Guidance Outlook Report Here
The trends in the Midstream Guidance Outlook will be expanded upon within East Daley's comprehensive 2020 Dirty Little Secrets Report - From Molecules to Money: Asset-Level ROCE. Speaking of secrets, we are excited to announce that the main section of Dirty Little Secrets is set to release in December 2019! A full month sooner than in previous years. The second part of the report will be released in January 2020, that includes a detailed breakout of all midstream companies under coverage.
Complete the form below for further information on how you can leverage the only reports in the industry that use data and analysis to tie commodity fundamentals to the asset-level financial impact.