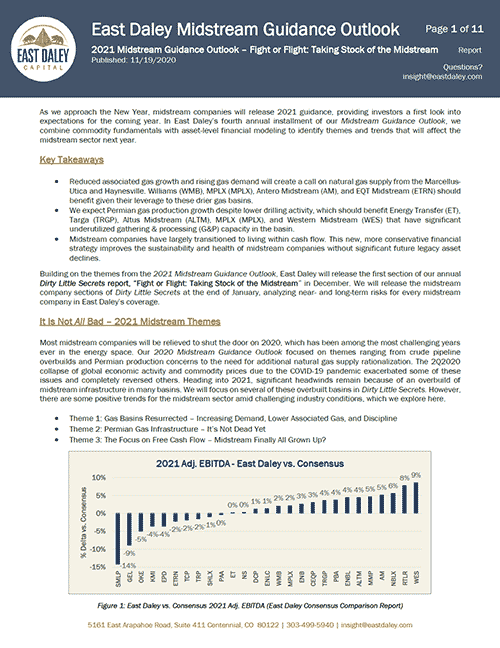 RBN partner and Spotlight Series contributor East Daley Capital is excited to release the 2021 Midstream Guidance Outlook Report, a preview of the biggest trends impacting the midstream sector by bringing together commodity fundamentals with asset-level financial modeling.
Midstream Guidance Outlook Key Takeaways:
Reduced associated gas growth and rising gas demand will create a call on natural gas supply from the Marcellus-Utica and Haynesville. Williams (WMB), MPLX (MPLX), Antero Midstream (AM), and EQT Midstream (ETRN) should benefit given their leverage to these drier gas basins.

We expect Permian gas production growth despite lower drilling activity, which should benefit Energy Transfer (ET), Targa (TRGP), Altus Midstream (ALTM), MPLX (MPLX), and Western Midstream (WES) that have significant underutilized gathering & processing (G&P) capacity in the basin.

Midstream companies have largely transitioned to living within cash flow. This new, more conservative financial strategy improves the sustainability and health of midstream companies without significant future legacy asset declines.
Download the Midstream Guidance Outlook Report Here
Building on the themes from this Midstream Guidance Outlook, East Daley will release the first section of the annual Dirty Little Secrets report, titled Fight or Flight: Taking Stock of the Midstream in December. Finally, the midstream company sections of Dirty Little Secrets will be released in January, analyzing near and long-term risks for every midstream company under East Daley coverage. ACT NOW - Purchase Dirty Little Secrets today for $5,000 (a 50% discount) until December 18, 2020. Email sales@eastdaley.com for additional details.
Complete the form below for further information on how you can leverage the only reports in the industry that use data and analysis to tie commodity fundamentals to the asset-level financial impact.