Natural Gas Oversupply - Ominous Implications for Henry Hub Pricing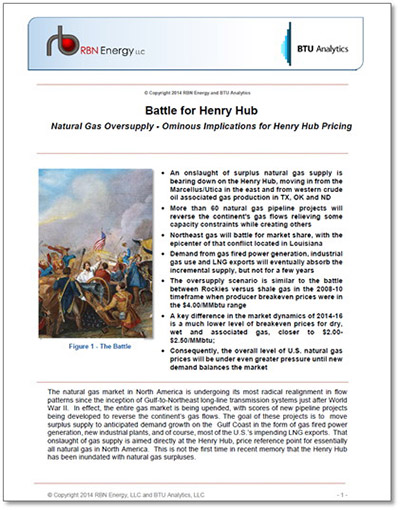 There is an onslaught of surplus natural gas supply bearing down on the Henry Hub in South Louisiana. More than 60 natural gas pipeline projects are in the process of reversing the continent's gas flows to move gas out of the Northeast, and much of that production will ultimately end up on the Gulf Coast. That gas will collide with residue and associated gas moving into Louisiana from the west, sourced from "wet" gas and crude oil plays in TX, NM, OK and ND. Demand from gas fired power generation, industrial gas use and LNG exports will eventually absorb the incremental supply, but not for a few years
This is not the first time in recent memory that the Henry Hub has been inundated with natural gas surpluses. In 2008-10, the newly completed Rockies Express (REX) pipeline into Ohio displaced gas from Louisiana and Texas with cheap and abundant Rockies production. At the same time, pipelines from the growing Haynesville and Fayetteville shale plays elbowed their way into the Southeast/Gulf market. The convergence of those surpluses crushed the Henry Hub price, resulting in significant ramifications for the gas market across North America, and, by obliterating the need for LNG imports, ultimately, global natural gas markets.
Now history is repeating itself. Those same market dynamics are headed toward the Southeast/Gulf, beginning in 2015-16. But this time there is an important difference in the economic profile of those surplus supplies. In that earlier battle for market share, the opponents (Rockies gas versus Southeast gas) were armed with breakeven prices in the $4 to $5/MMbtu range. But today the opponents are Northeast gas versus gas from Texas, New Mexico, Oklahoma and North Dakota. And the productivity arms race has changed the battle plan. Many producers in the Northeast can profitably produce gas at prices less than $2.50/MMbtu. Those supplies will be duking it out with producers of associated gas who are making their money on the sale of crude oil and condensate, meaning that they are essentially immune to the impact of low natural gas prices – down to a breakeven price of zero!
The implications are both stark and unambiguous. Natural gas surpluses will be battling it out for market share in and around the Henry Hub, armed with economics far more powerful than those earlier skirmishes in 2008-10. Can a $4.00/MMbtu Henry Hub forward curve survive combat at this level? From the vantage point of November 2014, it seems unlikely.
Battle for Henry Hub is a joint venture report from RBN Energy and BTU Analytics, and is available for purchase from either company. Cost for either an individual person or a single company is $6,500. Companies purchasing the report can distribute it to an unlimited number of users. In addition to the report, backup data files and presentation of report results are also available. Click to download a preview of the Battle for Henry Hub Report
For more details and pricing contact sales@rbnenergy.com or call 281-819-1983.
Important Note: Because Battle for Henry Hub is a joint venture report, it is not included with RBN's Backstage Pass service.