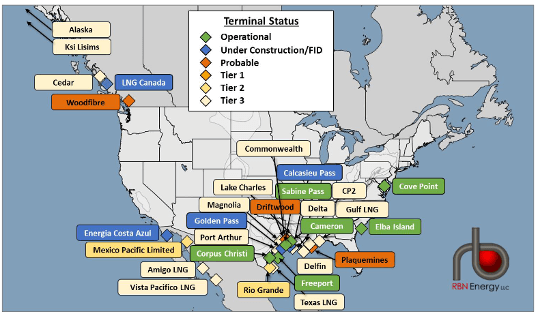 RBN's LNG Voyager is a weekly analysis of U.S. LNG exports activity, upstream natural gas supply, feedgas flows, infrastructure developments, and global price dynamics.
Subscribers receive weekly data, analysis, and market intelligence on feedgas demand, cargo activity, export economics, global gas prices and fundamentals, and infrastructure developments, including liquefaction and pipeline projects. The report also provides forward-looking fundamental insights into the effects of LNG operations and export economics, as well as the impacts of those factors on U.S. and global markets.
What you get
LNG Voyager Weekly Report – A weekly PDF report that combines fundamental data, graphs, and analysis to provide a comprehensive picture of the U.S. LNG market. The revamped Weekly expands our coverage of feedgas flows, pricing dynamics, and terminal operations. It also incorporates RBN's new, forward-looking export economics model for assessing the potential for cargo cancellations and provides additional insights into global gas market fundamentals and potential impacts on U.S. feedgas demand.
LNG Voyager Weekly Excel Data Supplement – A weekly historical Excel file supplement detailing the name, date, volume, origin, route, and destination of each domestic LNG export vessel (only available with annual subscription).
LNG Voyager Quarterly Supplement – A quarterly PDF report that provides robust information about the terminals and pipelines involved in facilitating LNG exports, including the status and operational details of export facilities, liquefaction and pipeline capacity contracts, upstream supply contracts, and pipeline projects. The report covers operational, under-construction, and pre-FID projects, and provides assessments on the likelihood of projects achieving a positive final investment decision in the near-term.
Already a subscriber? Make sure you are logged in and reload this page.
Complete form below for more information on the LNG Voyager Report.