Sitting within or near the Marcellus/Utica shale gas play and facing tightening environmental rules that start kicking in next April, power generators in the PJM (a large region that includes the states of Pennsylvania, New Jersey, Maryland, Delaware, West Virginia and Ohio as well as parts of Virginia, North Carolina, Kentucky, Indiana, Illinois and Michigan) and New York electricity markets very likely will burn increasing amounts of natural gas the next few years. But with pressure to rebuild depleted gas inventories after this year's Polar Vortex winter and the next wave of coal-unit retirements still months away, to what degree will generators in the region turn to gas this summer? In this episode in our gas power burn series, we provide a progress report on gas-inventory rebuilding and look at this summer's coal-versus-gas dynamics in PJM and New York.
In the first episode of our series, Should I Store or Should I Burn—Will Power Burn Jeopardize Gas Injection Season—we recounted how the polar vortices in January and February (and colder-than-normal weather in December 2013) resulted in record draw-downs in stored natural gas. By the beginning of spring, gas inventories were well below 900 Bcf. As we see in Figure #1, while the pace of inventory rebuilding has picked up in recent weeks (119 Bcf the week ending May 30, according to the U.S. Energy Information Administration, or EIA), the inventory level (at 1.5 Tcf as of May 30) remains a hefty 33% below where it was at the same time last year (2.4 Tcf) and 37% below the five-year average for late May (2.4 Tcf).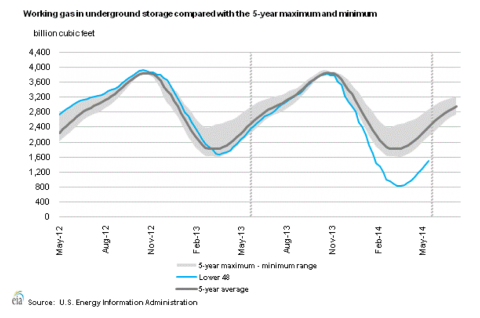 Figure #1
Source: Energy Information Administration (Click to Enlarge)
To access the remainder of Should I Store or Should I Burn?—2014's Gas Power Burn in PJM, New York you must be logged as a RBN Backstage Pass™ subscriber.
Full access to the RBN Energy blog archive which includes any posting more than 5 days old is available only to RBN Backstage Pass™ subscribers. In addition to blog archive access, RBN Backstage Pass™ resources include Drill-Down Reports, Spotlight Reports, Spotcheck Indicators, Market Fundamentals Webcasts, Get-Togethers and more. If you have already purchased a subscription, be sure you are logged in For additional help or information, contact us at info@rbnenergy.com or 888-613-8874.