The southern half of the Eastern Seaboard is a logical market for the natural gas surplus that will be flowing out of the Marcellus/Utica in coming years. Annual gas consumption in the fast-growing Maryland-to-Florida region now tops 8.7 Bcf/d and is rising quickly, largely due to the ongoing shift from coal-fired to gas-fired power generation. The region is close to major gas production areas in Pennsylvania, West Virginia and Ohio, and already has Williams' Transco mainline, the gas-transportation equivalent of an eight-lane highway, as well as other Trunkline interstate pipes running right through it.  In this episode of our series on moving gas out of the Marcellus/Utica, we look at pipeline projects Williams and others are planning to transport gas to Southeast consumers.
In our series opener, we discussed how quickly gas production has been rising in the Marcellus/Utica (from 2 Bcf/d in 2010 to more than 15 Bcf/d now and an estimated 22 Bcf/d by 2019), and how the regional and interregional pipeline network has been struggling to catch up. Production in the "dry gas" area in northeastern Pennsylvania (now at 7.8 Bcf/d) is set to rise to 10.4 Bcf/d within five years. We also noted that a lot of the initial push on increasing takeaway capacity involves moving gas from northeastern Pennsylvania into New York, New Jersey, New England and Ontario, and how midstream companies are now giving more attention to moving gas west and south. In Part 2, we explored plans by Spectra Energy to rework its Texas Eastern Transmission (TETCO) mainline to allow southbound gas deliveries. We also looked at Spectra's plan (with NextEra Energy) to build the 460-mile, 1.1 Bcf/d Sabal Trail gas pipeline from Transco's Station 85 (in west-central Alabama) to near Orlando by May 2017.
The six-state Maryland-to-Florida region (Maryland, North Carolina, South Carolina, Georgia, Virginia and Florida) is increasingly hungry for gas. The latest gas consumption numbers from  the US Energy Information Administration, (EIA), show the region using 3.2 Tcf in 2012 (or 8.7 Bcf/d)—up 38% from 2007 (see Figure #1). Gas-fired power plants in the region consumed about 2.0 Tcf (or 5.3 Bcf/d) of the 2012 total, accounting for 62% of the regional demand. Several new gas-fired power plants are under development, and more coal units are being retired, so gas consumption by the power sector will only rise.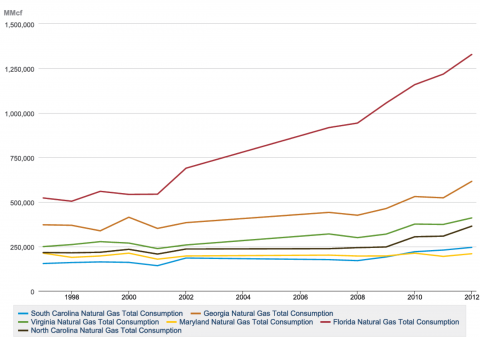 Figure #1
Source: EIA (Click to Enlarge)
To access the remainder of They Long to Be Close to You—Moving Marcellus/Utica Gas to the Southeast you must be logged as a RBN Backstage Pass™ subscriber.
Full access to the RBN Energy blog archive which includes any posting more than 5 days old is available only to RBN Backstage Pass™ subscribers. In addition to blog archive access, RBN Backstage Pass™ resources include Drill-Down Reports, Spotlight Reports, Spotcheck Indicators, Market Fundamentals Webcasts, Get-Togethers and more. If you have already purchased a subscription, be sure you are logged in For additional help or information, contact us at info@rbnenergy.com or 888-613-8874.