Rapid growth of heavy oil sands crude production in Alberta is prompting considerable expansion of storage and pipeline infrastructure at Edmonton and Hardisty. Less well publicized is the growth in conventional Canadian crude oil production – in many cases using horizontal drilling technology. In Saskatchewan, crude volume passing though the Kerrobert hub is increasing and a large rail-loading terminal is planned to open there in 2015 to supplement existing takeaway capacity on the Enbridge Mainline. Today we conclude our analysis of Canadian storage hubs, focusing on Kerrobert.
Previously on Canadian Storage
This blog concludes our series on Canadian crude oil storage. In Part 1 we looked at increasing Canadian crude oil production and expanding pipeline capacity in the two crude marketing hubs of Edmonton and Hardisty. These hubs are the staging posts for crude oil exports to the US as well as the distribution point for diluent supplies coming into the oil sands production region. In Part 2 we turned our attention to the relationship between Canadian crude pricing, congestion on the crude pipelines leaving Edmonton and Hardisty, and storage inventory. The growth and use of storage capacity at Edmonton and Hardisty exhibits a strong relationship to price discounts that Canadian producers have had to swallow as a result of pipeline congestion. In Part 3 we looked at TransCanada and MEG Energy's Edmonton storage expansion plans. In Part 4 we reviewed Kinder Morgan, Kayera, Gibson Energy, Enbridge and Pembina's growth projects at Edmonton. For Part 5 we turned our attention to the Hardisty hub and detailed Enbridge and Husky's operations. Part 6 covered TransCanada and Gibson Energy at Hardisty. Part 7 covered Spectra Energy, Flint Hills and Inter Pipeline's Hardisty operations. This episode (Part 8) covers storage infrastructure in Kerrobert, Saskatchewan.
Kerrobert
Kerrobert is a small town (about 1100 residents) in west central Saskatchewan about 116 miles southeast of Hardisty, Alberta. The town is the location of Canada's third largest crude oil storage hub after Edmonton and Hardisty. Kerrobert is an oil storage hub because it links pipelines that gather crude oil from conventional oil production in Saskatchewan and Alberta with the Enbridge Mainline pipeline that ships crude from Western Canada to markets in Eastern Canada and the US Midwest – as we have described earlier in this series. The map below of the Enbridge mainline system shows the relative position of Kerrobert to Edmonton and Hardisty as well as the oil sands production region centered in Fort McMurray. Crude flowing into Kerrobert is produced in Western Saskatchewan and Eastern Alberta.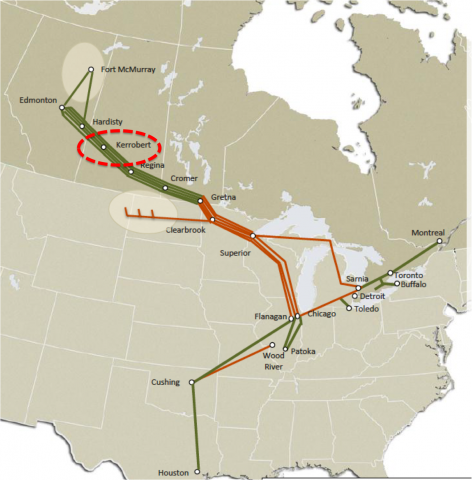 Source: Enbridge (Click to Enlarge)
Crude storage capacity at Kerrobert is owned by just three companies; Enbridge, Plains All American Pipeline (PAA) operating as Plains Midstream Canada and Inter Pipeline Limited (IPL). The vast majority of the capacity belongs to PAA – with 1.65 MMBbl while Enbridge has only 306 MBbl and IPL 240 MBbl according to our friends at Genscape – who track Canadian crude oil storage data on a weekly basis. The chart below shows Genscape storage estimates for the crude held by these three companies over the past year. The data shows that PAA storage has averaged 48 percent of full capacity over the last year although the latest data for January 31, 2014 shows levels are at 79 percent or 1.3 MMBbl. IPL storage is currently 36 percent full at 87 MBbl and that has also been the average level over the past year. Enbridge storage is currently 78 percent full at 239 MBbl versus a yearly average of 71 percent. Clearly the PAA storage is the most significant at Kerrobert. Just as we saw earlier in the series at Hardisty and Edmonton, the fluctuations in Kerrobert PAA storage volumes reflect producer concerns about the level of price discounting for their crudes because of pipeline capacity constraints downstream in the US Midwest. Storage in Kerrobert is often a better option than taking a haircut on pricing when there is no pipeline capacity to ship to the US. 
Source: RBN Energy and Genscape (Click to Enlarge)
PAA acquired their Canadian crude oil pipeline, gathering, storage and terminalling assets from Murphy Oil Company and CANPET Energy Group in 2001. Those assets include the Manito heavy crude pipeline gathering system. This 555-mile system consists of the Manito pipeline, the North Sask pipeline and the Bodo/Cactus Lake pipelines. These systems gather heavy conventional crude from Alberta and Saskatchewan and deliver it to Kerrobert. Each pipeline has a parallel diluent line to deliver condensate to the production site that is then used to dilute heavy crude so that it can flow in the outbound pipelines to Kerrobert (see Heat It Part 1 for more on that process). The map below shows the Manito system (inside the green dotted circle). The North Sask pipeline is 84 miles long and originates near Turtleford, SK and terminates in Dulwich, SK, south and east of Lloydminster. The 334 mile Manito pipeline originates at Dulwich and terminates at Kerrobert, Saskatchewan. The 137 mile Bodo/Cactus Lake pipeline originates in Bodo, AB and terminates at Kerrobert. The PAA Kerrobert storage and terminalling facility is connected to the Enbridge Mainline system and can both receive and deliver heavy crude from Enbridge. According to PAA data the Manito system flowed approximately 57 Mb/d of crude in 2012.
PAA also own and operate a Canadian natural gas liquids (NGL) processing and transportation business acquired from BP in 2011. That system includes an NGL pipeline from Empress Alberta (where NGLs are extracted from Alberta natural gas in "straddle" plants) to Kerrobert. PAA can distribute condensate (a.k.a., natural gasoline) from the NGL pipe to the oil fields and ship other NGLs East on the Enbridge mainline NGL pipeline. 
To access the remainder of Kerrobert Humperdinck – Storing Western Canadian Conventional Crude Oil you must be logged as a RBN Backstage Pass™ subscriber.
Full access to the RBN Energy blog archive which includes any posting more than 5 days old is available only to RBN Backstage Pass™ subscribers. In addition to blog archive access, RBN Backstage Pass™ resources include Drill-Down Reports, Spotlight Reports, Spotcheck Indicators, Market Fundamentals Webcasts, Get-Togethers and more. If you have already purchased a subscription, be sure you are logged in For additional help or information, contact us at info@rbnenergy.com or 888-613-8874.