Spectra Energy purchased the 280 Mb/d Express pipeline from Kinder Morgan in December 2012. The Express originates in Hardisty and ships crude to Caspar WY where it connects with the Platte pipeline into the Midwest. The Express is small compared to the huge 2.5 MMb/d Enbridge mainline and the planned 1.1 MMb/d TransCanada Energy East pipelines but it is not the smallest export pipe from Hardisty. That honor belongs to the Inter Pipeline Bow River that ships less than 100 Mb/d of crude across the border into Montana. Today we continue our Canadian crude storage series describing Edmonton and Hardisty crude oil infrastructure.  And further down in this blog we announce that everyone attending our School of Energy - Session A in March will be joining us for the Brad Paisley concert at the Houston Rodeo!
Recap
This is Part 7 in our series on Canadian crude oil storage. In Part 1 we looked at increasing Canadian crude oil production and expanding pipeline capacity in the two crude marketing hubs of Edmonton and Hardisty. These hubs are the staging posts for crude oil exports to the US as well as the distribution point for diluent supplies coming into the oil sands production region. In Part 2 we turned our attention to the relationship between Canadian crude pricing, congestion on the crude pipelines leaving Edmonton and Hardisty, and storage inventory. The growth and use of storage capacity at Edmonton and Hardisty bears a strong relationship to price discounts that Canadian producers have had to swallow as a result of pipeline congestion. In Part 3 we looked at TransCanada and MEG Energy's Edmonton storage expansion plans. In Part 4 we reviewed Kinder Morgan, Kayera, Gibson Energy, Enbridge and Pembina's growth projects at Edmonton. For Part 5 we turned our attention to the Hardisty hub and detailed Enbridge and Husky's operations. Part 6 covered TransCanada and Gibson Energy at Hardisty. This episode covers Spectra Energy, Flint Hills and Inter Pipeline's Hardisty operations. The next and final episode covers storage infrastructure in Kerrobert, Saskatchewan.
Inter Pipeline
Created in 1997, Inter Pipeline (IPL) is an international energy transportation, storage and natural gas liquids extraction company based in Calgary, Alberta. IPL gather and transport approximately 40 percent of oil sands production to Edmonton and Hardisty. The company owns the Corridor and Polaris (diluent) pipeline systems and an 85 percent interest in the Cold Lake pipeline system (Canadian Natural Resources own the other 15 percent). The combined capacity of IPL's oil sands pipelines is 4.5 MMb/d and growing as production ramps up. IPL's committed revenue from pipeline shippers is expected to almost double from $210 Million in 2014 to $400 Million by 2018. The map below shows the crude pipeline network as well as the company's natural gas liquids processing facilities.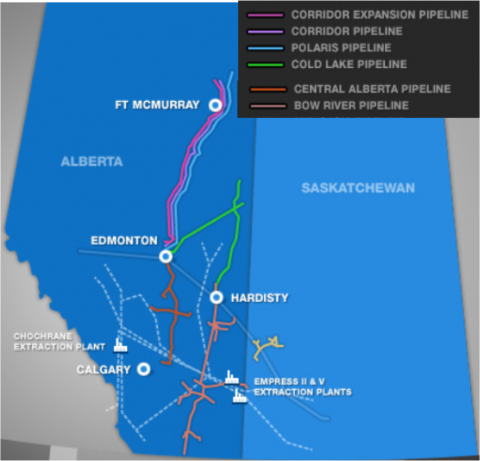 Source: Inter Pipeline (Click to Enlarge)
The Cold Lake crude pipeline system (green line on the map) transports blended dilbit from Cold Lake to Edmonton and Hardisty. In 2013, IPL added pump stations to the west leg of the pipeline system, boosting throughput capacity into Edmonton to 650 Mb/d. Capacity into Hardisty is about 220 Mb/d. The IPL Hardisty terminal has limited storage capacity of 75 MBbl.
The IPL Bow River Pipeline system (orange line on the map) gathers oil production in southern Alberta for delivery north to Hardisty and south to the Milk River interconnecting export pipeline near the Montana border. The Milk River pipeline connects to the Cenex pipeline in Montana. In 2008, the Bow River system delivered 26 Mb/d into Hardisty and 90 Mb/d to the Montana border. An expansion project started in 2009 allowed crude oil grades sourced at the Hardisty storage hub to be shipped south as a distinct, segregated stream to allow shipping of multiple grades of oil from Hardisty without product commingling with the locally gathered Bow River oil stream (see You Can't Always Get Out What You Put In for more on crude pipeline stream challenges). Total southbound capacity on Bow River is 129 Mb/d.
Spectra Energy Express Pipeline
Spectra Energy owns the Express pipeline that originates at Hardisty. In operation since 1997 and recently purchased from Kinder Morgan by Spectra, the 785 mile 280 Mb/d Express pipeline receives light, medium and heavy crude at Hardisty and delivers to markets in Montana, Wyoming, Utah and Colorado. The Spectra Energy Hardisty terminal contains six tanks with 900 MBbl total capacity that provide staging and operational services for the Express pipeline. The Express pipeline interconnects with the Platte pipeline system at Casper, WY (see map below). The 932-mile Platte pipeline transports up to 164 Mb/d from Casper to Guernsey, WY and 145 Mb/d from Guernsey to Wood River, IL.
Source: Spectra Energy (Click to Enlarge)
Flint Hills Resources
Flint Hills Resources Canada is a large crude oil purchaser, shipper and exporter. U.S. conglomerate Koch Industries owns Flint Hills, which runs a crude trading and marketing operation in Calgary and own a 650 MBbl crude storage terminal in Hardisty. The storage terminal is used primarily as a staging post to supply crude to Koch's 320 Mb/d Pine Bend Refinery in Minnesota.
Flint Hills feeds the Pine Bend refinery with 90 percent of its supplies from Hardisty. Crude is shipped on the Enbridge Mainline to Clearbrook and then on the Koch owned 455 Mb/d Minnesota pipeline. Crude can also be supplied from Hardisty via the Express and Platte pipelines to Wood River, IL.
To access the remainder of How Oil Get's Where It's Goin' – Pumping Crude Through Hardisty - Plus Brad Paisley Announcement you must be logged as a RBN Backstage Pass™ subscriber.
Full access to the RBN Energy blog archive which includes any posting more than 5 days old is available only to RBN Backstage Pass™ subscribers. In addition to blog archive access, RBN Backstage Pass™ resources include Drill-Down Reports, Spotlight Reports, Spotcheck Indicators, Market Fundamentals Webcasts, Get-Togethers and more. If you have already purchased a subscription, be sure you are logged in For additional help or information, contact us at info@rbnenergy.com or 888-613-8874.