In December 2013 US Midstream giant Kinder Morgan agreed to spend nearly $1 Billion to get into the oil tanker business by buying two companies that own 5 US registered "Jones Act" vessels and are in the process of building 4 more. These tankers are part of an exclusive fleet of just 42 self propelled ocean going vessels that deliver oil or refined products between US ports. Booming US crude production along with constrained onshore delivery infrastructure have increased demand for tankers that can ship oil along coastal waters. Long-term charter rates for these tankers jumped to over $100,000/day in 2013 compared to an average of $56,000/day in 2012.  Today we begin a blog series looking at the US flagged tanker fleet and plans to expand it by 35 percent in the next 2 years.
We posted a blog about the terms of the 1920 Merchant Marine Act – known by the industry as the Jones Act - back in October 2012 (See The Sea and Mr. Jones). The Jones Act is a federal statute that regulates maritime commerce in U.S. waters and between U.S. ports. Section 27 deals with cabotage (coastal shipping) and requires that all goods transported by water between U.S. ports have to be carried in U.S.-flag ships, constructed in the United States, owned by U.S. citizens, and crewed by U.S. citizens and U.S. permanent residents. The bottom line is that Jones Act vessels can be 2.7 times more expensive to operate as non-flag alternatives (source: US Maritime Administration (MORAD) study 2011) because of the regulations. And that has a big impact on shipping costs to move crude or petroleum products by water between US ports. In addition a shortage of available Jones Act vessels due to the small size of the fleet also imposes higher costs on shippers due to the tight supply of ships.
All of which has become a lot more significant over the past three years as burgeoning US crude production has encouraged producers and shippers to turn to inland and coastal waterway transport to bypass congestion on dry land. In addition to oceangoing vessels the Jones Act also covers inland barge movements that are increasingly being used to deliver crude oil from rail offloading terminals located in the Midwest and on the Gulf Coast to refineries. We described the two main barge markets – along inland waterways that support smaller 10 MBbl to 30 MBbl barges – and coastwise barges that range in size from 30 MBbl to large 185 MBbl articulated barge (ATB) vessels in our "Good Year For the Barges" series (see Part 1 and Part 2).
This blog series provides a deeper dive into the Jones Act coastal tanker fleet that currently consists of just 42 large vessels capable of carrying crude oil or refined products over longer distances along US Coastal waters. There are two types of vessels involved in this coastal trade – first are the 42 tankers - that operate under their own power and can carry anywhere from 200 MBbl to 1.3 MMBbl of crude oil or refined products. The picture below is of the Oregon Voyager – a typical Medium Range (MR) 340 MBbl tanker that is longer than two football fields and is operated by a crew of 29. There are 31 medium range tankers in the Jones Act fleet. The second vessel type used for large ocean going movements are about 18 large articulated barges (ATB) that are pushed by tug boats and carry over 180 MBbl. We look first at the tankers and will get back to the ATB's later in the series.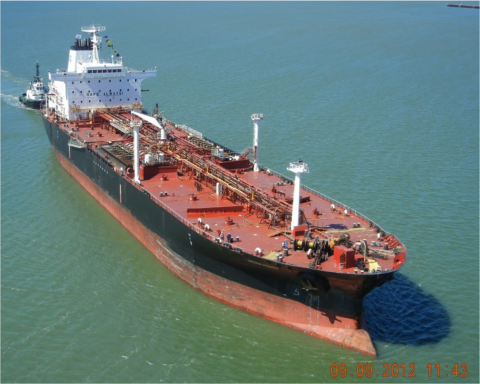 Source: www.shipspotting.com (Click to Enlarge)
Until three years ago, Jones Act tankers were primarily used to carry refined petroleum products between US ports on the East and West Coasts. Only the eleven largest tankers carried crude oil and those operated exclusively between Valdez, Alaska and the US West Coast, delivering Alaska North Slope (ANS) crude to Washington State and California refineries (see After the Oil Rush).  Now a growing number of the Medium Range (MR) vessels have been profitably switched from moving refined petroleum products to carrying crude oil. As a result of this new interest, tanker charter rates have been on a tear and are expected to continue their upward momentum. The chart below shows data from American Shipping Company (ASC – they operate 10 Jones Act tankers) for historical and projected time charter rates. The charter rates are shown in $'000/day and were around $70,000/day at the end of 3Q 2013 up from $50,000 at the start of 2012 and expected to rise to $90,000/day by 2019. However Reuters reported in June 2013 that Exxon Mobil (XOM) chartered the 339 MBbl American Phoenix from Koch for 2 years at $100,000/day and in December the 337 MBbl Overseas Cascade from Petrobras for 6 months at $110,000/day – suggesting that the ASC rates are conservative. Fuel costs add another $25,000/day to the charter costs.
Join Backstage Pass to Read Full Article