Total crude oil shipped out from the South Texas Port of Corpus Christi increased 19 fold between November 2011 and November 2012 from 2.1 MMBbl to 36 MMBbl. All of that crude is coming from the Eagle Ford shale oil basin 70 miles north of Corpus in the form of light crude or condensate via pipeline. Six marine terminals have been built or expanded at Corpus but can they handle the traffic jam? Today we review how the Port is coping.
We have previously described the Eagle Ford crude and condensate basin that is currently producing as much as 800 Mb/d (see Knocking on Heaven's Door Part I, Part II and Part III). More recently we discussed Eagle Ford crude takeaway capacity (see Too Much Too Soon?) and learned that all the region's new pipelines could transport more than twice the current production. About 1.25 MMb/d of pipeline capacity out of Eagle Ford production areas heads south to Corpus Christi where local refineries can currently consume 172 Mb/d. That leaves a potential 1.1 MMb/d of crude and condensate to be transported to market through the Port of Corpus Christi (PCC). The chart below shows the escalating volumes of crude oil outbound from Corpus over the past year. The volume increased from a trickle in the first quarter of 2012 to reach 300 Mb/d by November 2012 – the latest data available.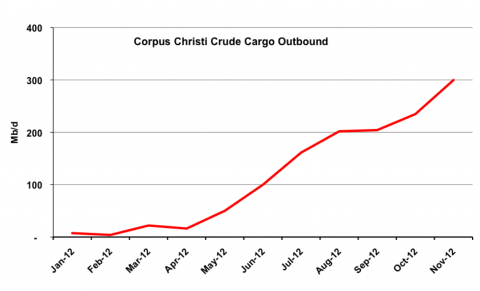 Source: Port of Corpus Christi (Click to Enlarge)
All of that crude is currently destined for US ports because of rules that forbid US crude oil exports without special permits (see Fifty Shades Lighter – The Condensate Export Problem). Shipments to US Ports have to use so-called Jones Act vessels because of another set of regulations that we described in The Sea and Mr. Jones. As a result the majority of the crude and condensate arriving at Corpus marine terminals from the Eagle Ford is loaded onto US flagged barges and tankers for transport to refineries in Houston, Beaumont-Port Arthur, Lake Charles and St. James, LA. As far as we understand the majority of these coastal shipments are taking place on barges. The tank barges used for coastwise crude shipment are typically about 180 MBbl in size but can be as large as 185 MBbl or as small as 30 MBbl (see "A Good Year for the Barges"). In addition several US-flagged Panamax (350 MBbl) and Medium Range 2 (200 MBbl) tankers have moved Eagle Ford crude to the US Atlantic Coast market. The only exception to the "no export" rule so far is refiner Valero that was recently granted an export certificate to move crude from Corpus Christi to its refinery in Quebec, Canada – although they have yet to ship a cargo.
To handle the actual and potential flow of crude and condensate from the Eagle Ford into the Port 6 marine terminals have been built or expanded in Corpus, belonging to Flint Hills (Ingleside), Nustar (North Beach), Trafigura (Texas Dock and Rail), Martin Midstream, Magellan Midstream and Plains All American. The table below lists the terminals and their storage and throughput capacities. In addition to these terminals that have been purpose built or adapted to handle the flow of Eagle Ford crude there are several private crude docks in Corpus that belong to local refiners Citgo, Valero and Flint Hills. In all the Port of Corpus has 14 public oil docks and a further 17 private oil docks. Here's what we know about each of the facilities in the table: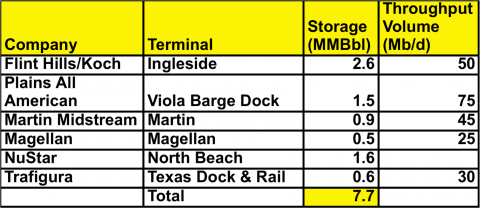 Source: RBN Energy (Click to Enlarge)
Flint Hills/Koch: Koch is a large private refining and trading company that owns two Flint Hills refineries (300 Mb/d combined capacity) in Corpus. Koch operates two pipelines that flow crude from the Eagle Ford into Corpus with 280 Mb/d capacity. The Flint Hills refineries consume about 140 Mb/d of Eagle Ford crude leaving another 140 Mb/d outbound from Corpus. To facilitate these shipments Flint Hills invested $48MM to convert a pier from the former Naval Station at Ingleside, Corpus into an Oil Dock that can ship up to 200,000 bbl/d of production via barge and tanker. Koch is shipping oil by Jones Act tanker to the Phillips 66 Linden, NJ refinery. The Ingleside terminal and existing Flint Hills crude storage facilities are 2.6 MMBbl.
Plains All American: Plains is a large US midstream player that was building its own 300 Mb/d pipeline from Gardendale to Corpus before teaming up with Enterprise Product Partners in August 2012 to jointly develop that pipeline and a link to Enterprise's Eagle Ford Crude pipeline to Houston. When the project is completed in June 2013 it will carry as much as 350 Mb/d of crude and condensate to Corpus. Plains is building out a marine terminal at the Viola Barge Dock in Corpus that they have leased from the PCC. Plains are installing utilities and equipment to load up to four 30 MBbl tank barges at a time from the dock. The dock will remain public meaning that other companies can use it. We previously described Plains plans to facilitate condensate shipments from Corpus to St. James, LA for onward shipment up the Capline and Southern Lights pipelines to Western Canada as diluent (see Plains Trains and Diluent Deals).
Martin Midstream Partners LP: Martin is a Gulf Coast midstream company that operates petroleum storage and distribution terminals. Martin's Corpus Christi crude terminal is located at the termination point of the Harvest Gardendale Pipeline that delivers up to 150 Mb/d of crude and condensate. The terminal has 600 MBbl barrel storage tanks (expandable to 900 MBbl) and pipeline connections to barge and deep-water marine tanker docks with loading rates up to 30,000 barrels per hour.
Magellan Midstream: Magellan is another logistics company with petroleum storage and distribution terminals throughout the US. Magellan has had a terminal at Corpus for some years and their facility has 3 MMBbl of storage primarily used for refinery feedstocks and heavy oils. The Magellan terminal is well connected to Corpus refineries and petrochemical plants. Magellan's terminal is the end point of the Double Eagle pipeline bringing up to 100 Mb/d of condensate to Corpus from Gardendale (expected online 1Q 2013). The Double Eagle pipeline is a joint venture between Magellan and Copano Energy - that has recently been acquired by Kinder Morgan (January 2013). As a part of the Double Eagle project Magellan is building 0.5 MMBbl of condensate storage.
NuStar Energy LP: NuStar is a growing midstream supply logistics company with a strong presence in the Eagle Ford and Gulf Coast region. The company was originally founded with assets owned by Valero who have 2 Eagle Ford refineries at Corpus and Three Rivers. NuStar operates several pipelines between Corpus and Three Rivers and recently acquired the assets of TexStar ( a crude and natural gas liquids gathering company) in November 2012. Two NuStar crude and condensate pipelines from Three Rivers to Corpus have capacity to ship up to 240 Mb/d to the company's North Beach terminal in Corpus. The North Beach terminal has 2 MMBbl of storage and can load 200-400 Mb/d onto barges. Like Plains, NuStar have a storage terminal at St. James, LA that they can use to supply Louisiana refineries.
Trafigura: Trafigura is a large international commodity trading company with worldwide operations. In January 2012 the company purchased the Texas Dock and Rail facility in Corpus an 85 acre dockside facility with 600 MBbl of crude and condensate storage. The terminal has a deep water dock that can accommodate tanker vessels. Union Pacific and BNSF rail lines connections run alongside the terminal to the south. At the time that they purchased the terminal Trafigura entered into an alliance with Energy Transfer Partners to … "optimize logistics opportunities for Eagle Ford producers and provide them with the ability to access one of the deepest private water docks in the region". The extent of this alliance is not yet clear since both sides have maintained radio silence since the initial announcement. Energy Transfer is the largest midstream petroleum company without an Eagle Ford infrastructure presence so we expect them to either build or buy additional assets to deliver crude to the Trafigura terminal.
Barge costs from Corpus to St. James, LA are about $2.70/Bbl and $1.40/Bbl to Houston.The freight cost to move crude by tanker from Corpus to US East Coast ports (e.g. to Philadelphia or New Jersey refineries) is about $4/Bbl. The shipping cost to Canada is lower ($2/Bbl) because there is no requirement to use Jones Act vessels.
The biggest constraint at the moment in getting barrels out of Corpus Christi and on their way to Houston or St. James is the lack of available barges. We learned from our "Good Year for The Barges" blog series that tank barge utilization rates are over 90 percent for coastal waters. There are also only a limited number of Jones Act tankers that can carry larger quantities of crude or condensate further afield. The PCC is not accustomed to all the new barge traffic. Larger barges can take up as much space as an 800-foot ship. Environmental requirements such as vapor recovery systems mean that barges must be loaded at rates five to six times slower than a tanker. That has led to docking congestion.
The 1.25 MMb/d of pipeline capacity built in the last two years to deliver Eagle Ford crude and condensate towards Corpus Christi is now up and running. The Port is reeling from a 19-fold increase in outbound crude traffic. The six marine terminals built or expanded in the last year are constrained by the slow loading of barges and the lack of qualified Jones Act vessels. At the moment Eagle Ford production is lagging behind pipeline capacity and that might turn out to be the only thing preventing supplies backing up at Corpus. Along with the current congestion in Houston at the delivery end of the Seaway pipeline we are starting to see the US Gulf infrastructure creaking under the strain of increased domestic production. I hope you like jammin' too?
Each business day RBN Energy releases the Daily Energy Post covering some aspect of energy market dynamics. Receive the morning RBN Energy email by signing up for the RBN Energy Network.
Jammin' by Bob Marley and the Wailers was released on the 1977 Album Exodus