While Energy Information Administration (EIA) estimates of crude-by-barge traffic between the Midwest and the Gulf Coast have fallen sharply in the past 18 months, shipments down the Ohio River to Texas and Louisiana refineries have increased threefold – peaking at just under 70 Mb/d in May 2015. Growing barge shipments have been accompanied by midstream investment in barge dock facilities – especially in Ohio. Today we discuss increased shipments of ultra light crude condensate to Gulf Coast refineries on the Ohio River.
This series updates previous RBN Energy analysis of crude movements by barge – along the U.S. inland waterway system that includes the Mississippi River system and the Gulf Intracoastal Waterway (GIWW) between Texas and Louisiana. In Episode 1 we first recapped previous RBN coverage of the barge market - describing the 10 - 30 MBbl tank barges that are pushed up and down the river system in unit tows of 2-3 barges by "towboats". We described how the use of barges to carry crude oil has increased significantly since U.S. crude production from shale took off in 2011. The nations crude pipeline distribution system became congested – particularly in the Midwest where new shale crude from North Dakota competed with oil sands crude from Canada to get to refineries in coastal locations. To bypass this congestion shippers turned to alternatives such as rail and/or inland barges to get their crude to market destinations where prices were higher. In many cases this "workaround" involved loading crude onto rail tank cars and then transshipping it onto barges to make the final leg of the journey to Gulf Coast refineries via the Mississippi River. Crude barge traffic between the Midwest and the Gulf Coast increased 10 fold between 2010 and 2013 – peaking in October 2013 at 158 Mb/d. Since then crude by barge volumes have fallen off just as rapidly – in response to new pipelines coming online to provide a more efficient route to market. At the same time, crude price differentials that previously justified the higher cost of barge transport (subject to Jones Act regulations that increase shipping costs) narrowed during 2013 and have not recovered since. As a result barge traffic on the Midwest – Gulf Coast route was down to 27 Mb/d - 80% below its peak – by April 2015. In this episode we look at growing barge traffic on the Ohio River carrying lease condensate (categorized by EIA as crude oil) from the Ohio Utica.
The Ohio River starts at the merging of the Allegheny and Monongahela Rivers in Pittsburgh, and flows nearly 1,000 miles to its confluence with the Mississippi River near Paducah, Kentucky. As we have mentioned previously, the Ohio River is a navigable route for inland barges delivering increased production of Utica condensate to Gulf Coast refineries via the Mississippi River (see You Took A Condensate Shipped To Sea and Finding Markets For Utica Condensate). The bad news for this analysis is that the good folks at the EIA can't help us shed much light on this barge traffic down the Ohio River to the Gulf Coast. That is because the river runs right along the border between two of the EIA's reporting districts – namely Petroleum Administration for Defense District (PADD) I – the East Coast region and PADD II – the Midwest region. So West Virginia and Pennsylvania are in PADD I and Ohio and Kentucky are in PADD II. That means if you want to track barge movements between (say) PADD I and PADD III (Gulf Coast) the data is pretty difficult to interpret  - first because any barge traffic outbound from the Ohio or Kentucky (north) side of the Ohio River gets lumped in with all the PADD II Midwest to Gulf Coast traffic we reported on in Episode 1 and second because if you just look at PADD I data you only get traffic outbound from the Pennsylvania and West Virginia (south) side of the Ohio River. Not really the EIA's fault – they have to draw the line somewhere – but (for the record) this is a good reason for them to someday transfer Ohio into PADD I to help with our analysis!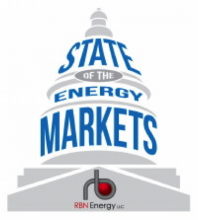 State of the Energy Markets
What is going on in today's markets for natural gas, NGLs and crude oil, why it is happening, and what is likely to happen next?
July 23rd, 2015 New York City
The good news is that our friends at ClipperData can help us crack this nut by providing the barge movement estimates shown in Figure #1. ClipperData tracks monthly load and off take barge movements along U.S. inland waterways – including the Ohio, Mississippi and GIWW routes as well as various international routes. The chart shows crude movements (that we assume to be mostly condensate because that is what gets produced in the Utica) with each color representing a different combination of load and off take State as indicated by the legend at the bottom. For example, the dark blue shaded area represents shipments (in Mb/d) between Ohio and Texas, the purple shading shipments between Pennsylvania and Louisiana and the light blue shading shipments between West Virginia and Louisiana and so on through all 7 combinations.
To access the remainder of Down To The River – Growing Crude-by-Barge Traffic on the Ohio River you must be logged as a RBN Backstage Pass™ subscriber.
Full access to the RBN Energy blog archive which includes any posting more than 5 days old is available only to RBN Backstage Pass™ subscribers. In addition to blog archive access, RBN Backstage Pass™ resources include Drill-Down Reports, Spotlight Reports, Spotcheck Indicators, Market Fundamentals Webcasts, Get-Togethers and more. If you have already purchased a subscription, be sure you are logged in For additional help or information, contact us at info@rbnenergy.com or 888-613-8874.