U.S refiners have been processing a lot of crude so far this summer and utilization rates remain high. Crude production has leveled off and is expected by the Energy Information Administration's (EIA) Short Term Energy Outlook to decline slightly during the second half of 2015. But the early summer market sentiment that drove crude prices up to $60/Bbl on the back of these fundamentals appears to have lost steam. Today we conclude our analysis of short term crude price prospects.
In the first part of this two-part series (see Why Are WTI Prices Stuck at $60/Bbl?) we looked at the evolution of crude prices for domestic benchmark West Texas Intermediate (WTI) since they began falling a year ago from a high over $107/Bbl in June 2014 to a low under $44/Bbl on March 17, 2015 – recovering since then to the $60/Bbl range in May and June.  Last October falling crude prices set in motion a market condition known as contango where future prices are expected to be higher than spot prices today – encouraging the use of storage to "save" cheap crude today for use when prices recover (see Skipping The Crude Contango). This contango incentive led to a huge build up in crude oil inventory – especially at the Cushing, OK trading hub (where CME/NYMEX WTI futures contracts are delivered) as well as in the Gulf Coast region. Our analysis showed that since March 2015 – as the contango spread has narrowed – demand for crude has picked up as high margins encouraged refiners to process more oil nationwide. Higher demand for oil contributed to an end to the crude inventory build and a stock drawdown at Cushing and the Gulf Coast since April. With demand higher and an inventory drawdown combined with a narrowing contango - some analysts expected the WTI crude price "rehab" to $60/Bbl in April to continue towards $70 or even $75/Bbl. But prices have remained range bound close to $60/Bbl over the past two months amid continued concerns about an overall supply surplus versus demand. This time we look at crude production as well as imports to understand the demand for crude versus available supply and then relate these changing fundamentals back to prospects for a further crude price "rehab" this year.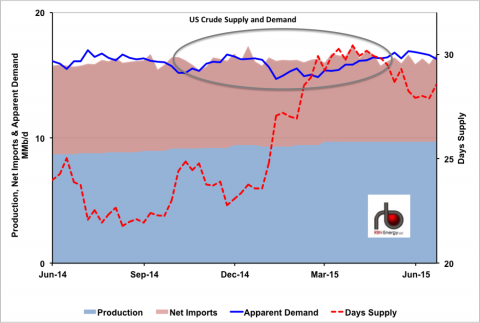 Figure #1; Source: EIA, RBN Energy (Click to Enlarge)
The chart in Figure #1 details the U.S. crude supply/demand position over the past year. The data is derived from weekly and monthly reports published by the EIA. There are 3 data series plotted on the left axis in million barrels/day (MMb/d). The first is crude production (light blue shaded area). The EIA provide weekly estimates of U.S. crude production but these are largely based on model estimates so that they tend to lag behind "actual" data. So for this analysis we used EIA monthly actual crude production data up until April 2015 and then estimates of production from the EIA short term energy outlook (STEO) forecast. According to that data actual crude production in April 2015 was 9.70 MMb/d and the STOE forecast was flat between April and  June before showing a 300 Mb/d decline in the second half of 2015. The second data series on the left axis is weekly crude oil net imports (pink shaded area - stacked on top of production). Net imports are crude imports less exports. Net import volumes fluctuated between 6-8 MMb/d over the period but were on average 350 Mb/d lower in the first half of 2015 than in the last half of 2014. The third data series against the left axis is Apparent Demand (blue line). We previously explained how apparent demand is calculated for gasoline (see No Apparent Demand). The calculation adds crude production and net imports to an estimate of how much crude is placed into or taken out of inventory during a given period (in this case weekly). This is a bit easier to understand if you look at the blue line on the chart relative to the pink shaded area. If the blue line is above the shaded area that indicates apparent demand is higher than supplies from imports and production – reflecting a drawdown in inventories. If the blue line is within the pink shaded area then apparent demand is lower than imports and production – reflecting a stock build. The area of the chart inside the grey oval – where the blue line is mostly within the pink) is the period of major inventory build between October 2014 and April 2015. As we discussed in Part 1 refiners have ramped up crude processing since March – causing apparent demand to exceed imports and production and a subsequent drawdown in inventories. Right at the end of the chart the blue line dips back into the pink – reflecting the slight increase in crude inventories reported by EIA for the last week of June 2015.
To access the remainder of They Tried To Make A Crude Price Rehab – Balancing Fundamentals Keep A Lid On Prices you must be logged as a RBN Backstage Pass™ subscriber.
Full access to the RBN Energy blog archive which includes any posting more than 5 days old is available only to RBN Backstage Pass™ subscribers. In addition to blog archive access, RBN Backstage Pass™ resources include Drill-Down Reports, Spotlight Reports, Spotcheck Indicators, Market Fundamentals Webcasts, Get-Togethers and more. If you have already purchased a subscription, be sure you are logged in For additional help or information, contact us at info@rbnenergy.com or 888-613-8874.