Over 400 Mb/d of Gulf Coast condensate splitter projects could be online by the end of 2016. These splitters will compete for condensate feedstock with local refineries in the Eagle Ford able to process 475 Mb/d of light crude and condensate. Another 700 Mb/d of stabilization capacity in the Eagle Ford could be used to process condensate for export. But with low crude prices stalling production growth, splitter economics could suffer if demand exceeds supply and condensate prices increase as a result. Today we conclude our update on Gulf Coast splitters.
There is no question that processing and distribution of ultra-light crude and natural gas liquids (NGL) materials known as condensate continues to be a focus for midstream infrastructure investment. We have previously provided several explanations of the range of different condensate materials being produced from oil and gas wells in the shale era  (see Like A Box of Chocolates). Earlier this week we looked at plans to move plant condensate (that is extracted from the gas liquids stream by gas processors) from the Ohio Utica to Western Canada as diluent (see Give A Little Bit). This blog series is about splitters that process lease condensate (that condenses into a liquid at the wellhead) at the Gulf Coast. In Episode 1 we described the market for lease condensate from the South Texas Eagle Ford that is too light for most Gulf Coast refiners to process in significant volumes without changes to their configurations. With growing supplies available from the Eagle Ford, one solution is to process condensate in a splitter – a form of simple refinery.  We walked through the list of 7 brand new condensate splitter projects that were proposed to that end between 2012 and 2014 by various midstream companies.
Then in 2014 the rules of the game abruptly changed when the Bureau of Industry and Security (BIS) clarified decades old export regulations to allow the export of lightly processed condensate. That caused some splitter projects to be put on hold as producers reevaluated their commitments to these relatively expensive investments versus just stabilizing condensate for export. At the same time the most recent Energy Information Administration (EIA) Drilling Productivity Report (DPR) data suggests that Eagle Ford crude and condensate production could be declining in the wake of lower drilling budgets after the price crash. In Episode 2 we looked at two new project announcements for condensate processing at Corpus Christi (one of which – from Cheniere - that company has now confirmed will not be a splitter) and reviewed splitter economics showing that while a hypothetical splitter yield would have been more profitable in 2015 than 2014, the margins are much lower than for full refineries and rely on a wide spread between condensate prices and regular crude. This time we look at how the supply demand balance for condensate at the Gulf Coast is likely to impact splitter economics.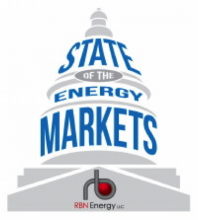 Early Bird Special Ends July 10th !!
State of the Energy Markets
What is going on in today's markets for natural gas, NGLs and crude oil, why it is happening, and what is likely to happen next?
July 23rd, 2015 New York City
We start with estimates of condensate supply. Hard data on condensate production is difficult to come by since the EIA does not yet differentiate between lease condensate and crude oil in their reporting. The fact that condensate is frequently discounted versus regular crude because refiners prefer not to process such light material also means that producers may be tempted to simply blend condensate into the crude stream so that it is never counted as such. RBN estimates condensate production in the Eagle Ford during 2014 averaged about 575 Mb/d or 44% of total crude oil and condensate production as reported by EIA of 1.3 MMb/d. DPR estimates for crude and condensate production in the Eagle Ford through July 2015 average about 1.6 MMb/d meaning about 700 Mb/d of condensate using the same 44% ratio. So for the sake of this discussion we assume Eagle Ford condensate production in 2015 will average out at about 700 Mb/d. We also estimate about 150 Mb/d of condensate will be produced in 2015 from the Permian Basin – much of which is expected to reach the Gulf Coast (primarily via the Plains Cactus pipeline). That makes a total of 850 Mb/d available condensate supply at the Gulf Coast in 2015. After 2015 future growth in condensate supplies depends on what happens to crude prices - with higher prices encouraging new drilling and lower prices keeping the brakes on production. We expect modest growth at best in condensate supplies in 2016 absent a major crude price revival. If crude prices stay in the current $60/Bbl range and producers concentrate their drilling in "sweet spots" where returns are better it is likely that pure oil plays will be favored over condensate rich plays – keeping the lid on new condensate production.
To access the remainder of Dancing in the Dark – Will There be Enough Supply For Gulf Coast Condensate Splitters? you must be logged as a RBN Backstage Pass™ subscriber.
Full access to the RBN Energy blog archive which includes any posting more than 5 days old is available only to RBN Backstage Pass™ subscribers. In addition to blog archive access, RBN Backstage Pass™ resources include Drill-Down Reports, Spotlight Reports, Spotcheck Indicators, Market Fundamentals Webcasts, Get-Togethers and more. If you have already purchased a subscription, be sure you are logged in For additional help or information, contact us at info@rbnenergy.com or 888-613-8874.