[Note: We will not post an RBN Blog on Memorial Day - Monday May 25]
The past four years have seen a boom in U.S. refining with strong margins and increased throughput.  The balance of refinery feedstock has changed from a majority of imports to a majority of domestic crude. Market inefficiencies – in the distribution system, crude quality mismatches and export restrictions have kept U.S. crude prices below international levels – bringing refiners high margins and competitive product exports. Today we look at how refiners have benefited from changing U.S. crude supplies.
This blog series looks at how the dramatic changes in U.S. crude supplies over the past four years has impacted the nation's refiners. In this first episode we look at changes to refinery feedstocks in the past four years as well as the demand for crude and markets for refined products.  In later episodes we'll look at refinery margins and the possible impact of lower growth in crude production going forward.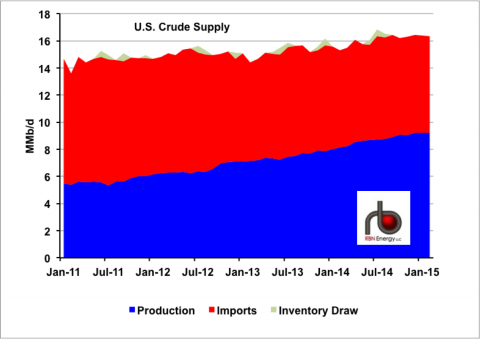 Figure #1: Source: EIA, RBN Energy (Click to Enlarge)
First a look at where U.S. refiners source their crude supplies. The chart in Figure #1 shows the three sources of U.S. crude supply – domestic production (blue), imports (red) and inventory draw (light green) for the period since January 2011 according to monthly data from the Energy Information Administration (EIA). The big story in U.S. crude supply over the past 4 years has been the transition from imports providing the majority of supplies (63% in January 2011- 9.2 MMb/d) to providing just 44% of supplies today (7.1 MMb/d in February 2015). That reduction in imports came about because of the increase in U.S. domestic production – primarily from the three major shale basins – the Williston in North Dakota, and the Eagle Ford and the Permian in Texas. Total U.S. production jumped 67% from 5.5 MMb/d in January 2011 to 9.2 MMb/d in February 2015 – increasing its share of crude supply over the period from 37% to 57%. That dramatic rate of increase in production has now slowed to a crawl at best as the price crash has led producers to reduce budgets and cut back new drilling. However while the slow down impacts the rate of increase in production, the overall average production in 2015 is  expected to remain at least as high as it was in 2014 – keeping the balance of supplies in favor of domestic crude over imports.
To access the remainder of Living With A Material Surge - How Refiners Benefited From The Shale Boom you must be logged as a RBN Backstage Pass™ subscriber.
Full access to the RBN Energy blog archive which includes any posting more than 5 days old is available only to RBN Backstage Pass™ subscribers. In addition to blog archive access, RBN Backstage Pass™ resources include Drill-Down Reports, Spotlight Reports, Spotcheck Indicators, Market Fundamentals Webcasts, Get-Togethers and more. If you have already purchased a subscription, be sure you are logged in For additional help or information, contact us at info@rbnenergy.com or 888-613-8874.