Solar photovoltaic projects accounted for an impressive 40% of all the new electric generating capacity installed in the U.S. in 2019 — the third time since 2015 that solar additions outpaced installations of natural-gas capacity. And the early 2020s are shaping up as another good period for solar, especially in states that offer both intense sun and the broad expanses of land required for large-scale solar projects. Texas is a case in point; some 8,000 megawatts (MW) of new solar capacity is expected to be added there in the 2020-22 period. Solar power, like wind power before it, has come to be so prolific in the Lone Star State that you'd think it would be having a significant impact on how much gas-fired generation is needed day to day, right? Today, we discuss the increasing role of solar generation in the second-largest state and its impact on the demand for traditional power plant fuels.
While rig counts and production have been sagging in the Permian Basin and other plays as producers and their financial backers cut back on investments, there's a surge under way in capital spending on renewables, especially in West Texas but also in other parts of the state. Though Texas has long been the U.S.'s leader in wind generation, with almost 30,000 MW of wind farms now online, the state's grid has been getting even greener via new growth in solar generation — a sector historically associated more with California and the desert Southwest than hydrocarbon-centric Texas.
It's been a while since we last looked at the subject of Texas renewables in our Runnin' Against The Wind blog, and things have changed a lot since then, especially regarding solar. Prior to 2015, the state had just under 200 MW of solar capacity, compared to about 10,000 MW of wind power that had already been installed. However, solar capacity additions from 2015 through 2019 added more than 2,000 MW of solar panels to the state and installed solar capacity sat at around 2,500 MW entering this year. Those existing facilities are shown below as the orange circles in Figure 1.
While many of the pre-2020 facilities were less than 100 MW each, as shown by the smallest orange circles, and located near large cities, particularly Austin and San Antonio, recent installations have tended to be over 100 MW (medium and largest orange circles), and much larger projects are becoming more common, especially in the sunny, wide-open spaces of West Texas. For example, there's the 250-MW Phoebe Solar plant in Winkler County, which came online last year and sells power under a long-term agreement to Shell Energy North America. In fact, Permian Basin counties now account for over 1,500 MW of installed Texas solar, with large installations spread across Winkler, Pecos, Reeves, Upton, and Andrews counties. The Permian area's role in solar generation is expected to grow over the next three years, as over 5,000 MW of additional solar capacity is planned for the region in the 2020-22 period. That's about two-thirds of Texas's total new solar capacity over the same three-year term.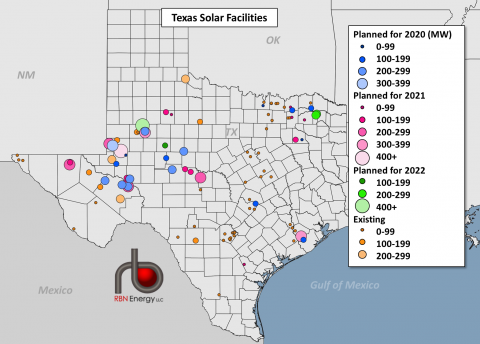 Figure 1. Existing and Planned Texas Solar Generation. Sources: EIA and RBN Energy
More solar capacity means more solar output. As shown in Figure 2 below, solar facilities contributed about 400 MW, on average, to the Texas power grid in the summer of 2018 (yellow bars to far left in Figure 2; left axis) before falling some into the winter months, when the days are shorter and the sunlight isn't as direct. Solar generation then showed modest growth in 2019, peaking near 600 MW last summer before seeing a slight seasonal decline. However, this spring things really took off. In May, daily average solar generation in Texas topped 1,000 MW for the first time ever, and it has grown to an average of 1,400 MW in June, or about 3% of total generation in the state this month (orange line; right axis). While that pales in comparison to California, where solar contributes almost 5,000 MW each day, on average, during the summer months, it's about as much as two gas-fired combined-cycle power plants.
Year-to-date in 2020, solar generation's contribution to the Texas grid has averaged 800 MW, twice the level in the same period last year. Wind generation is also up versus last year and has combined with solar to pressure the share of fossil fuels in the Texas power stack. As we said in our introduction, you might think this would be detrimental to natural gas demand for power generation, but that hasn't happened — at least not yet — as we will explain next.
Figure 2. Solar Generation and Share of Total Generation in Texas. Source: EIA
A couple of years ago, in Here Comes The Sun, we discussed how newly installed renewable generation in California — primarily wind and solar — was crowding out gas-fired generation there. Alas, Texas and California are different, a statement with which many residents of both states would heartily agree. In Texas, the continued rise of renewables in 2018, 2019, and the first few months of 2020 doesn't appear to have had any meaningful impact on gas-fired generation. Not surprisingly, given the state's hot summers, the amount of gas-fired generation (blue bars in Figure 3; left axis) varies widely over a year's time, peaking at just over 50% during the hottest summer months. However, gas's share of total generation (orange line; right axis) has stayed relatively flat in 2020, averaging the same 44% share of the stack that it did during the first six months of last year.
Figure 3. Natural Gas-fired Generation in Texas. Source: EIA
Which brings us to coal. Coal, along with natural gas, has historically been a primary generation source in Texas. In recent years, though, coal-fired power's role has diminished, largely because it isn't as economic as gas-fired generation in a state flush with gas. As shown in the purple bars in Figure 4, coal has really taken it on the chin from renewables the past couple of years — and especially in 2020. The share of coal in the power stack (orange line; right axis), already under pressure from coal plant retirements in the second half of the 2010s, has continued to decline and this month sits at just 18%. While that's only down 2% from last June, coal's year-to-date share in 2020 has averaged only 17%, compared to 22% over the same period last year. In absolute terms, coal generation is about 2,000 MW lower this year compared to the January-to-June period in 2019.
Figure 4. Coal-fired Generation in Texas. Source: EIA
What does this mean going forward? As we noted earlier, solar generation capacity is set to grow by 8,000 MW over the 2020-22 time period. And more wind power is on the way too: another 8,000 MW of it is expected to be added by the end of 2022. That likely spells still more trouble for coal generators, and potentially for natural gas-fired plants as well.
"Soak Up the Sun" was written by Sheryl Crow and Jeff Trott, and appears as the second song on Sheryl Crow's fourth studio album, C'mon, C'mon. Released in March 2002 as the first single from the LP, "Soak Up the Sun" went to #17 on the Billboard Hot 100 Singles chart, and #1 on their Adult Top 40 and Dance Club Songs charts. The single was certified Gold by the Recording Industry Association of America (RIAA). Personnel on the record were: Sheryl Crow (lead vocals, guitar, bass, organ, electric piano, percussion); Doyle Bramhall II, Douglas Grean, Wendy Melvoin, Craig Ross, Tim Smith, Peter Stroud, Jeff Trott (guitars); Mike Elizondo, Davey Faragher, Brad Jones, John Shanks (bass), Jeff Anthony, Steve Jordan, Brian MacLeod, Keith Schreiner, Shawn Pelton (drums); Keith Ciancia, Benmont Tench (keyboards); Lenny Castro (percussion), and Liz Phair (backing vocals). 
C'mon, C'mon was recorded in 2001-02 at Clinton Recording and Avatar Studios in New York City; Sunset Sound, The Sound Factory, The Living Room, and Henson Recording Studios in Los Angeles; Ocean Way Studios and Emerald Studios in Nashville; Black Apple Studios in Portland, OR, and Funny Bunny Studios in London. The album was produced by Sheryl Crow, John Shanks, and Jeff Trott. Released in April 2002, C'mon, C'mon went to #2 on the Billboard Top 200 Albums chart, and was certified 2x Platinum by the RIAA. Four singles were released from the album.
Sheryl Crow is an American musician, singer, songwriter, and actress. She has sold more than 50 million records worldwide. Crow has released 11 studio albums, three live albums, six compilation albums, one EP, and 46 singles. She has appeared in 13 television shows and three motion pictures. Crow has won two American Music Awards and nine Grammy Awards. She still records and tours, with three New York shows scheduled to take place in late October of this year.