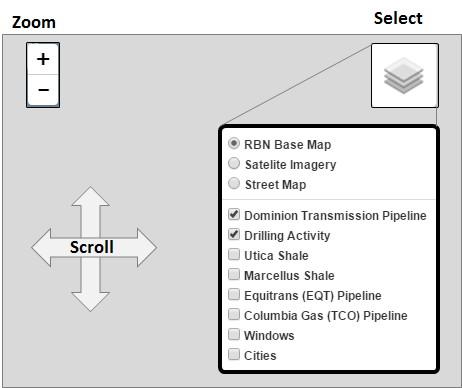 Think of RBN Pipeline GIS like any online mapping service. For each map that you open, the system gives you access to certain features. You have three basic functions available to you. You can zoom in and out with the widget on the top left. You can select what features you want to see and what background (base map) you want to see it on with the widget on the top right. And you can scroll all around the map the way you would on any map application.
If you have other questions about how to use the mapping capability, click on the link in the bottom right corner Map Help.
To access the remainder of RBN Pipeline GIS- Join Together With Demand – NGL Takeaway Pipelines & Ethylene Crackers you must be logged as a RBN Backstage Pass™ subscriber.
Full access to the RBN Energy blog archive which includes any posting more than 5 days old is available only to RBN Backstage Pass™ subscribers. In addition to blog archive access, RBN Backstage Pass™ resources include Drill-Down Reports, Spotlight Reports, Spotcheck Indicators, Market Fundamentals Webcasts, Get-Togethers and more. If you have already purchased a subscription, be sure you are logged in For additional help or information, contact us at info@rbnenergy.com or 888-613-8874.