It would be an understatement to say that the worldwide market for liquefied natural gas (LNG) is in flux. LNG production is up and heading higher, oil—and LNG--prices are down sharply from a few months ago, and Japan and other big consumers of LNG are more interested than ever in mitigating price and supply risk. All this comes as Japan, a primary target of prospective U.S. and Canadian LNG export projects, is grappling with the need to restart dozens of idled nuclear units so it can reduce the oil and LNG imports that have hurt its trade balance since the Fukushima disaster nearly four years ago. Today we consider recent developments and how they may affect Japan and its potential LNG suppliers on the North America side of the Pacific.
Despite recent setbacks, Japan remains an undisputed economic powerhouse, the third-largest economy in the world behind the U.S. and China. But the island nation depends more than ever on imported oil and natural gas (in the form of LNG) to run its power plants and factories and to heat its businesses and homes. As we said in the First Episode of our "Spouse of the Rising Sun" series, Japan was already the world's leading LNG importer (accounting for about one-third of all LNG imports) in March 2011, when a 9.0 earthquake triggered a tidal wave that devastated Tokyo Electric Power Co.'s six-unit Fukushima Daiichi nuclear station northeast of Tokyo. Within two months of the disaster, most of Japan's other 48 nuclear units were offline, and by September 2013 all of them were. Given that nuclear power had been providing 30% of Japan's electricity prior to Fukushima (with fossil-fired units providing almost all the rest), the industry-wide nuclear shutdowns forced wrenching change. Oil and LNG imports rose to fill the nuclear gap and, as we said in Episode Two, the pace of nuclear-unit restarts is likely to be slow and the heightened need for oil and LNG is likely to continue. What's changed over the past few months though, is that a lull in LNG demand (in Japan and elsewhere in Asia) has created a supply surplus and a buyer's market. Also, as we know all too well, the price of oil has fallen precipitously and shows no sign of a quick rebound. These changes (and rising LNG production in Papua New Guinea, Australia and—soon—in the U.S.) have given Japan the hope of reining in its fuel-import costs in general, and its LNG costs in particular.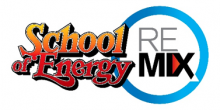 It's a REMIX! SCHOOL OF ENERGY CALGARY!
RBN's School of Energy has been reworked, restructured and reorganized to make the conference even better - more content, more models and more labs.
Calgary - March 30 - April 1, 2015
The very liquid worldwide market for oil enables Japan and other Asian oil importers to take advantage of currently low oil prices. In addition, because the vast majority of Asian LNG contracts index LNG prices to a basket of imported oil known as the Japanese Crude Cocktail (JCC - see "Courtesy of the Red, White and Blue"), LNG-importing countries also are benefiting from much lower prices in recent months. Figure #1 shows an approximation of the JCC based on Brent prices since the start of 2014, falling from close to $20/MMBtu in July to $10/MMBtu in December. Add to that the facts that demand for LNG in Japan and South Korea this past summer and fall has been flat, and that new LNG production expected online soon will add to market supply (fully one-third of the output of Chevron's mammoth Gorgon LNG project in Australia—set to start exporting in mid-2015—is not under long-term contract so will hit the open market) and you have yourself an LNG price-sag of major proportions. In December 2014, spot LNG prices in Asia (a better leading indicator than the JCC contract price) are below $10/MMBTU and they could fall even more by the spring of 2015 if it's a mild winter and LNG stockpiles continue to build.
To access the remainder of Spouse of the Rising Sun—No LNG Divorce Imminent, Despite It All you must be logged as a RBN Backstage Pass™ subscriber.
Full access to the RBN Energy blog archive which includes any posting more than 5 days old is available only to RBN Backstage Pass™ subscribers. In addition to blog archive access, RBN Backstage Pass™ resources include Drill-Down Reports, Spotlight Reports, Spotcheck Indicators, Market Fundamentals Webcasts, Get-Togethers and more. If you have already purchased a subscription, be sure you are logged in For additional help or information, contact us at info@rbnenergy.com or 888-613-8874.