We saw a slight recovery in crude prices Friday (December 19, 2014) with CME NYMEX West Texas Intermediate (WTI) futures up $2.41/Bbl from Thursday's close. At the same time CME NYMEX Henry Hub natural gas futures were down $0.18 to $3.464/MMbtu. That meant the crude-to-gas price ratio between these two commodities was up 1.5X to 16.3X from it's recent low under 15X on Thursday. However futures markets indicate that market expectations for the crude-to-gas ratio are for it to remain at a low level between 15X (i.e. WTI in $/Bbl is 15X Henry gas in $/MMbtu) and 17X for most of the next decade. If that turns out to be true there are serious implications for shale drilling, gas processing and LNG export prospects in the U.S. Today we look at what may happen and why.
In Part 1 of this series we described the changing relationship between crude oil and natural gas prices during the shale era. Prior to the Great Recession in 2008 crude and gas prices moved in sync – following the same general pattern – largely in response to international factors. During the years between 2009 and June 2014, oil and gas prices headed in opposite directions. Gas prices stayed low because a surplus of domestic shale production was not met by any major new sources of demand. At the same time, oil prices increased to over $100/Bbl even as U.S. shale crude output surged after 2011. That was because new crude production mostly replaced imported barrels meaning that production growth had less of an impact on overall prices.  During that period of "Great Divide" between oil and gas the ratio of WTI to Henry Hub natural gas averaged 27X - reaching an all-time high of 54X in April 2012. These ratio levels were much higher than historical levels around 7.5X and the "true" BTU ratio of WTI crude to natural gas of 5.8 MMBtu/Bbl. The high ratio led many producers to move away from drilling for dry gas to wet gas and crude plays with higher value liquids. The high crude-to-gas ratio also underpinned a "Golden Age" of natural gas processing marked by high margins for extracting gas liquids from the natural gas stream. In the past 6 months the party has come to an end as the rapid decline in crude prices (down 50 percent since June 2014 resulted in the 15X crude-to-gas-ratio, a level not seen since June 2010.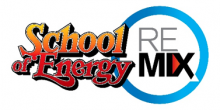 It's a REMIX! SCHOOL OF ENERGY CALGARY!
RBN's School of Energy has been reworked, restructured and reorganized to make the conference even better - more content, more models and more labs.
Calgary - March 30 - April 1, 2015
In this second episode in our two part series, we look at the potential consequences of a new era with a lower crude-to-gas ratio. We start by looking at the forward curve of the ratio to see whether futures markets expect the ratio to stay at its current levels. The chart in Figure #1 shows the forward curve of the ratio as of December 19, 2014 – providing an indication of futures market sentiment about the ratio (see Living in Fast Forward for more on forward curves). The blue line is the monthly value of the ratio going out to 2023. The red line is the annual average of each calendar year. That annual average is 17X in 2015 but falls steadily lower to 15X in 2023. Note that the monthly curve has a seasonal pattern – lower in winter and higher in summer – because that is the shape of the natural gas forward curve. Overall the ratio curve stays in a tight range all the way out to 2023 of between 15 and 17X. The underlying crude curve (not shown) is increasing between 2015 and 2020 before flattening off at about $71/Bbl. The underlying gas curve (also not shown) increases consistently from $3.46/MMbtu in January 2015 to just under $5/MMBtu in 2023. If the ratio futures curve is any indication, then we can expect the crude-to-gas ratio to stay at its new lower level for some time to come.
To access the remainder of Ratio Ga-Ga? – Consequences of a Lower Crude-to-Gas Price Ratio you must be logged as a RBN Backstage Pass™ subscriber.
Full access to the RBN Energy blog archive which includes any posting more than 5 days old is available only to RBN Backstage Pass™ subscribers. In addition to blog archive access, RBN Backstage Pass™ resources include Drill-Down Reports, Spotlight Reports, Spotcheck Indicators, Market Fundamentals Webcasts, Get-Togethers and more. If you have already purchased a subscription, be sure you are logged in For additional help or information, contact us at info@rbnenergy.com or 888-613-8874.