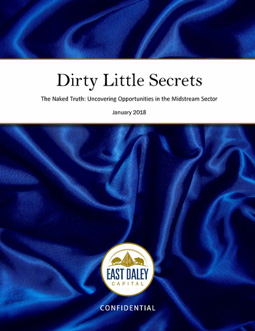 RBN partner and Spotlight Series contributor East Daley Capital is excited to release, Dirty Little Secrets 2018: The Naked Trust: Uncovering Opportunities in the Midstream Sector, the sequel to their groundbreaking market research report from 2017.
Dirty Little Secrets is the definitive guide to uncovering investment opportunities in the U.S. midstream oil and gas sector.
With 165 pages of detailed analysis, this report provides the most comprehensive review of upside and downside risk of 28 midstream companies. This report is used by investors, institutional banks, fund managers, private equity, midstream companies and E&Ps to understand how changing energy market dynamics will impact the midstream sector in 2018 and beyond.
Highlights from Dirty Little Secrets 2018:
$7.2 billion (15%) in cash-flow growth from midstream companies in 2018 will be transformational for an industry beaten down in 2017.
17 of 28 companies covered in this report are expected to outperform market consensus, highlighting East Daley's positive outlook for midstream growth.
Coverage and leverage are key metrics but they can mask insight into future company performance that is only uncovered from detailed asset-level analysis, such as the case with BWP and ETP.
Gas and oil production is expected to surge across the country, boosting oil output by 1.3 MMB/d and gas extraction by 5.6 Bcf/d YoY…bolstering earnings across the sector.
Supply growth has been underappreciated in basins like the Bakken, Powder River and Marcellus. Growth in those basins is contrary to market sentiment for rate and volume risk.
The infrastructure of tomorrow could be in the ground today with old infrastructure finding new life in the Permian, Bakken and DJ.
Tax cuts have raised return on equity for natural gas pipelines, oil, and NGL lines, increasing the risk of significant revenue cuts via rate cases or rate freezes.
Purchase of Dirty Little Secrets 2 includes a 165-page PDF Report which is divided into two sections. The first 45 pages analyze market conditions, shifting trends, and an explanation of methodology. The next 115 Pages are comprised of 3-4 page analysis of 28 individual midstream companies including key points, asset risk profiles, and segment operating income forecasts. NEW this year is distributable cash flow (DCF) coverage and leverage based on EBITDA forecasts and summary data files for all the companies that show earnings per asset, segment and commodity! Purchase also includes a presentation from an East Daley senior analyst.
Download a Preview of Dirty Little Secrets 2 HERE
For more details and pricing contact tjbraziel@rbnenergy.com 281-819-1983, or