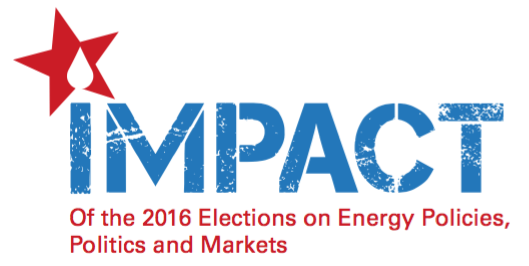 Tuesday May 10, 2016 / Houstonian Hotel, Houston, TX
2016 is shaping up to be a transformative year for the energy industry.  Regulations put in place by the Obama Administration will impact methane emissions from new (and potentially existing) sources, pipeline and rail transportation, renewable fuels, crude oil and LNG exports, and operations from wellhead to the refinery gate.  Geopolitics, including the ramifications of the Paris COP21 national commitments and the Iran nuclear deal, will impact global demand for oil, natural gas and products.  The 2016 elections, and the positions taken by candidates during the campaign, will be bellwethers of the market the industry will face in 2017 and beyond.
C-Suite executives, business development leaders and government relations chiefs will need both top flight Washington insight – from the thinking of regulators and Congressional committees to the plans for Presidential candidates – and savvy market analysis to plan for these changes and to shape potential outcomes. 
For this reason we have created this Executive Workshop on The Impact of Washington Regulation, Geopolitics and the 2016 Elections on Energy Markets, led by Goldwyn Global Strategies, LLC (Washington's top energy policy strategy firm), Sutherland, Asbill and Brennan LLP (a global law firm with deep access and expertise on energy tax issues, the RFS, and energy regulation) and RBN Energy LLC (the nation's most insightful, data driven and comprehensive energy market analysts).  These leaders, and key experts from their networks, will lead a deep dive on the issues that will impact the industry this year and next – with exclusive insights you won't find anywhere else.
Click Add to Cart below to register now at the early bird rate of $850!
Event Date:
Tuesday May 10, 2016
Event Location:
The Houstonian
111 Post Oak Lane
Houston, TX 77024
Event Contact:
Brenda Brown
bbrown@rbnenergy.com
(888) 612-9488
Discounted Lodging: RBN Energy has reserved a limited number of rooms at The Houstonian for a discounted rate of $225 per night, not including taxes. This rate will be honored through Tuesday, April 18, 2016, depending on availability. Registration opens at 7:00 am. Forum starts at 8:00 am. Hotel reservations must be made directly through The Houstonian, call 713-685-6810 and refer to our event - 'RBN Impact Conference'