According to the Weekly Petroleum Status Report, U.S. production has been rangebound from 11.8 MMb/d to 12.3 MMb/d for nearly a year now (green line). 
While we do see some upward trajectory, particularly in the monthly statistics the growth is still meager considering prices over the last year have averaged $90/bbl. 
So, it begs the question; what is the deal with crude oil production?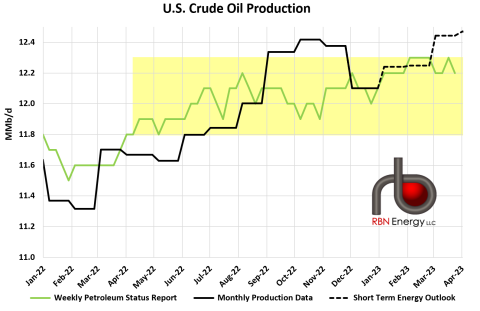 There are a variety of explanations. Some have to do with the statistics themselves. For example the EIA has said that their weekly production statistics are understated due to unreported field condensate volumes. 
Then there are the macro drivers like supply chains, tight capital markets and the oft-cited producer discipline.
Most recently a common refrain is to point to degrading producer inventory positions and less productive wells - particularly in the Permian. But we are skeptical of this explanation, especially in the short-term. 
Ultimately, what we see is likely a combination of those factors all weighing on production growth.